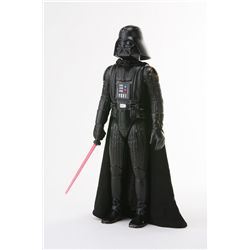 Blacksparrow Auctions is pleased to announce the Vintage Toys & Pop Culture Auction, to be held at the Chicago Comic & Entertainment Expo (C2E2) on April 28, 2013. The live auction features over 250 artifacts from popular culture as depicted in television, film, comics and children's literature. A select variety of toys, comics and artwork from the auction catalog will be on display at C2E2.
The featured items in the sale include the original 1978 Carbalon hand-painted hardcopy 15" Darth Vader figure with Lightsaber, given by Kenner to Sears to photograph for the 1978 Christmas catalog and the extremely rare Kenner Stretch Serpent, boxed and in mint condition.
Other offerings include original design artwork for children's book covers and game pieces, such as the Brady Bunch paper doll book design prototype, Pink Panther jigsaw puzzles, Bugs Bunny sticker books, and many other one-of-a-kind items. In addition, there will be a selection of CGC-graded Silver Age comics, including Fantastic Four #1 and Amazing Spider-Man #1. This collection represents a span of 45 years of this genre. With its variety of value offerings, it affords an excellent opportunity for the beginning collector as well as the seasoned connoisseur.
About Blacksparrow Auctions
Blacksparrow Auctions has a collective number of 80 years' experience dealing with Hollywood memorabilia and collectibles. The company recently announced a countrywide tour and auction of the screen-worn costumes from the hit blockbuster, The Hunger Games.
For more information, visit blacksparrowauctions.com