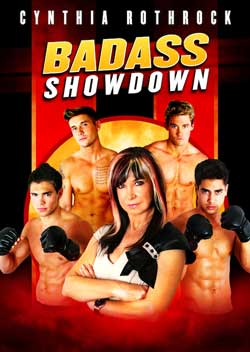 Cynthia Rothrock made a name for herself first as the undefeated middleweight World Karate Champion in Forms & Weapons for five consecutive years, then as the lead femme fatale in over 50 movies starting with  24 Hours to Midnight, the cult favorite  Above the Law and the Sally Field hit thriller Eye for an Eye. Now the iron lady and her trademark Scorpion Kick are kickboxing their way to the screen in Badass Showdown, arriving on DVD and VOD April 2, 2013.
Uber MMA fighter manager Ivy Reed (Rothrock) is unique as a woman in a male-dominated field. Her determination to win leads her to use a special formula to find her champion fighters. Though her trainer Jimmy (Josh Griego) doesn't see eye to eye with her, he nevertheless works with her current crop of auditioning fighters to see if any of them are worthy of being managed by the Kickboxing world's most decorated female warrior.
Badass Showdown pays homage to the plethora of action features headlined by Rothrock throughout the late 1980s and 90s. One of a very few in her field, she became a mainstay in martial arts cinema thanks to her roles on television's  Hercules: The Legend Continues, The Dukes of Hazard Reunion, and multiple movie franchises like Lady Dragon, Martial Law, Rage and Honor, Fast Getaway, Tiger Claws, and China O'Brien.  Now kicking ass for a new generation, Rothrock headlines a cast of muscle bound up-and-comers like Ryan Greco (Nickelodeon's Victorious), Kip Canyon (Puppet Master: Axis Rising) and Brandon Schinaman (Party Like the Rich and Famous).
Rothrock and her teammates will strike April 2, 2013 on DVD and through major Video on Demand networks like Amazon VOD, Time Warner, iTunes, Vudu.com, Xbox, AT&T Uverse, Verizon Fios, Comcast, Cox, Brighthouse, Insight, Cablevision, Charter, Sony Playstation, DISH VOD and DIRECT TV. Pre-book for DVD is March 5, 2013.