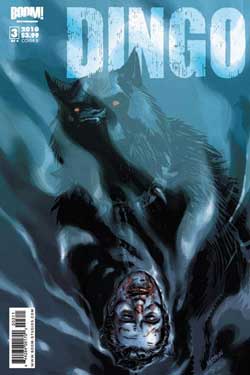 Issue: Dingo #3
Creator & Writer: Michael Alan Nelson
Artist: Francesco Biagini
Colors: Stephen Downer
Letters: James Dashiell
Editors: Matt Gagnon, Dafna Pleban
Cover Artists: Francesco Biagini, Paul Harmon
Publisher: Boom Studios
Release Date: February 2010
Pages: 24
Price: $3.99
"On the brink of a watery grave, Dingo must gather his strength, his wits and his daring to recover the box from his murderous chex-wife! With his family's legacy at stake, Dingo discovers help from the most unlikely, most terrifying source… A supernatural crime story in the vein of 100 BULLETS — from the writer of the hit series' HEXED and FALLS OF CTHULHU."
Artwork: 4.0 out of 5.0
This issue just took this series another step forward when it comes to the artwork. I liked the style that is used here, but in this issue we welcome more blood and guts! I honestly am in love with the look of Cerberus and the dog is my main interest in this issue. Aside from that we also get to see Eunice Devereaux and my god is she hideous! This is so far the best looking issue of this mini.
Story: 4.0 out of 5.0
So as if the art wasn't good enough, Nelson delvers the most intense and action packed story here. We also get some answers to what is in the box. The dialogue is solid and the story moves along at a great pace. This is probably the most enjoyable issue to me so far. Just a great book in the making.
Dying Breath: 4.0 out of 5.0
So after reading this issue I am beginning to get a little sad. I don't want it to end soon. The story and artwork are killer and this is what I want to read. So if it is going to end, there had better be a new mini on the horizon. This story has so much depth and it needs to be looked into further. In regards to this issue, it is by far the strongest yet and it will make you want a Cerberus of you own by the time you get to the last page.
If you would like to buy Dingo #3 you can pick it up at your local comic shop. For more on Boom Studios please check out http://www.boom-studios.com/
Comic Review: Dingo – Issue 3