MJ : HOW CLOSE DOES "EVIL HEAD" FOLLOW THE STORYLINE OF THE EVIL DEAD?
DS : 'Evil Head' pays homage to the Evil Dead series, in particular Evil Dead 1 & 2. I am a huge fan of Sam Raimi's work with the series, and
while 'Evil Head' is a parody of sorts I definitely consider it a tribute to the original films. You'll see familiar things from Evil Dead 1 & 2 but there will also be a number of new plot elements and twists. When writing and producing a horror-p*rn, (like 'Evil Head' or my past works 'Re-Penetrator' and 'The XXXorcist') I treat it more as a horror movie with p*rnographic elements rather than a p*rno with horror elements. The situations that develop tend to be absurd and over the top so it comes off more funny and disgusting than serious horror, but I think it's a good mix. Then when we get to the sex scenes (as any good horror movie should have, in my opinion) we get to do full blown sex since it's a p*rno!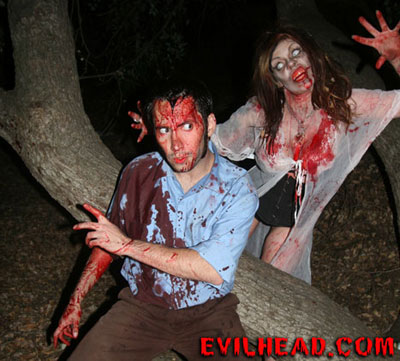 MJ : DURING THE P**N SCENES, IS IT HARD FOR THE ACTORS TO KEEP ON THE HORROR MAKE-UP AND BLOOD?
DS : You know, I didn't really think about the logistics of the amount of blood going into the first movie we did, 'Re-Penetrator' until it was actually happening and we were shooting. I had a fire extinguisher filled with fake blood and I was willing to go as far with it as the actors would allow. When Tommy Pistol and Joanna Angel never said stop spraying blood, we just went until it was done. Out of all the actors I have worked with, I would say Tommy and Joanna definitely have put up with the most intense conditions with the least amount of complaining, so no, it's not hard at all! (For me at least!)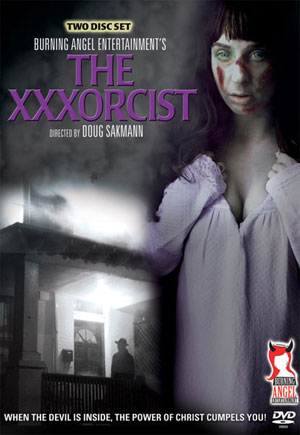 MJ : DO YOU HAVE A FAVORITE SCENE FROM EVIL HEAD?
DS : We're trying to keep all the details under wraps until we're 100% done with the movie, but I will tell you that Tommy Pistol will be playing
the 'Ash' character. There will be about 12 characters in the film, and we'll be building a cabin from scratch! Evil Head will have all the tree rape and chainsaw sex that Sam Raimi wanted to include in the original films! It will be by far the biggest production I have done of this
type and the movie will be about 3 hours long!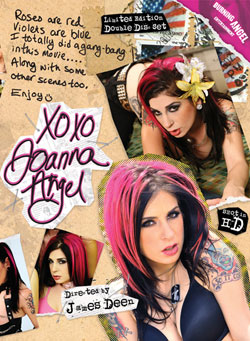 MJ : TELL US ABOUT YOUR ASSOCIATION WITH BURNING ANGEL ENTERTAINMENT?
DS : Before I started working with Burning Angel I had no idea I would be working in the p*rn industry. My career in horror-p*rn (and p*rn in
general) started when Joanna Angel and Burning Angel.com asked me to create and direct a p*rno as a Halloween treat for their website members in 2004. They saw my slasher film Punk Rock Holocaust and thought that it would be a good mix with Burning Angel was doing. Being a big horror-movie buff, I figured the best way to go would be a parody of one of my favorite horror classics, Re-Animator, and Re-Penetrator was born. We did it as just a fun thing to do for Halloween, but little did we know the film would amass a huge fan base and even win an AVN Award for Best Most Outrageous Sex Scene in 2006! Apparently a lot of people liked it, so we decided to do one a year for Halloween, which is where The XXXorcist came about. The XXXorcist is twice as long and ten times more offensive and gross as Re-Penetrator!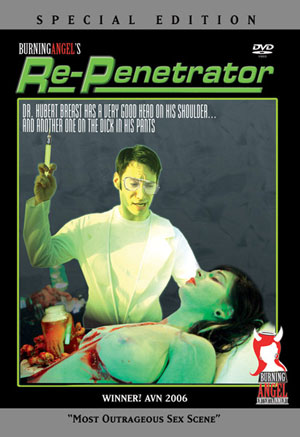 MJ : WHILE FILMING MOVIES LIKE RE-PENETRATOR, XXXORCIST, AND EVIL HEAD I'M SURE YOU HAVE SOME PRETTY INTERESTING BEHIND THE SCENES STORIES, CARE TO SHARE ONE?
DS : We had a lot of craziness going on behind the scenes and most of them involved slime or blood in one way or another, getting shot in someone's eye or various orifices…Tommy Pistol got shot in the balls with a high pressure fire extinguisher filled with vomit, that slowed down production for a few minutes but he was a good sport and jumped right back into the mix. There are a lot of behind the scenes antics on the 2-disc XXXorcist DVD; there is a feature length documentary on the making of the entire film and a whole lot more! You can order it at www.burningangel.com, but it is almost out of stock….we are doing another pressing soon though!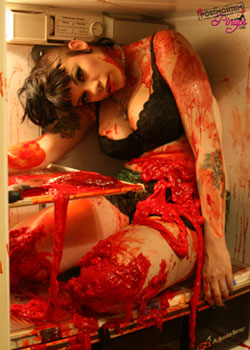 MJ : ARE YOU GOING TO BE MAKING MORE HORROR P**N PARODIES?
DS : We were going to do 'Night of the Giving Head'; we were talking about it for awhile but decided to do 'Evil Head' first. Then someone else used that title so I think that one is out. However, since Friday the 13th is one of my favorite movies we have been talking about doing that next…the working title is 'Thursday the 12th: Jason Comes Early! I would definitely like to do a ' Hellraiser' one soon too…I work with a flesh hook suspension team called Disgraceland Hook Squad www.disgracelandfamily.com, which is as close as you can get to a real life Hellraiser as you can get, so we can do some REAL flesh hooking for the movie!
MJ : WHAT IS YOUR FAVORITE HORROR MOVIE OF ALL TIME?
DS : I am a huge fan of horror movies, slasher and splatter films in particular. I must say that the Friday the 13th series are definitely a big inspiration for me as well as the works of Lloyd Kaufman and the Troma Team. Lloyd is a great inspiration to me, he inspired me to make 'my own damn movie' and start my own company!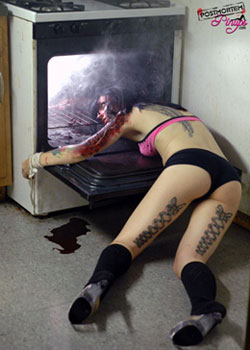 MJ : WHAT DID YOU LEARN FROM YOUR DAYS AT TROMA FILMS THAT YOU'VE TAKEN WITH YOU AS A DIRECTOR?
DS : I have learned so much from my days with Lloyd Kaufman at Troma as I had the opportunity to get involved with all aspects of the filmmaking industry. As a director I learned that you have to have a game plan and a specific vision if you are going to be directing a cast and crew to see it through. If you don 't know what you are doing, neither will anyone else. I learned a good balance of control, how to get what you need out of people without being too abrasive or demanding. And most important, I learned that as a director you need to be in control of all aspects of production, especially if you are working on a low budget shoot. You can only depend on people so much if they are not getting paid. You need to know what is going on so if anyone drops out or leaves you can fill in the gaps. I am lucky enough to be able to work with my friends (many of whom I met while working at Troma) and I can always depend on them. However, when you have a large cast and crews working for little money, there are bound to be a few bad apples.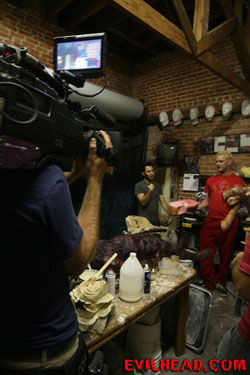 MJ : WHAT IS POST-MORTEM PINUPS?
DS : "Post-Mortem Pinups" is a series of photos of girls in their final death positions, either through suicide or murder, "Femme Fatales in Fatal Positions". I do all the special effects on the girls and take the photos, we've got lovely ladies dismembered, drowned and hit by cars amongst many other ways to die. What can I say…I like to kill people! Deceased models include Joanna Angel, Gia Paloma, Melodie Gore, Page Morgan, Riley Mason, Chapel Waste, Morgan Mae and Draven Star…you can check out the previews at www.postmortempinups.com we'll have a lot more murder in the coming months!!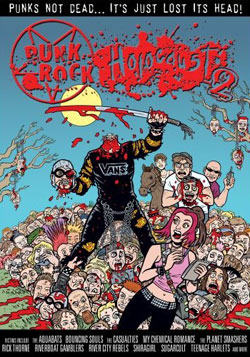 MJ : WHAT OTHER PROJECTS DO YOU HAVE COMING UP IN THE FUTURE?
DS : I am a habitual multitasker so I always have a lot going on (sometimes too much). With our production company Backseat Conceptions we've got our hands full opening our new 941 Theater, an independent movie theater as well as live performance art and music space in Philadelphia. You can check that out at _www.941theater.com_ www.941theater.com . We also started a non-profit to raise awareness and help protect projected arts and independent theaters called the Philadelphia Friends of the Projected Arts; you can check that out at www.projectedarts.com.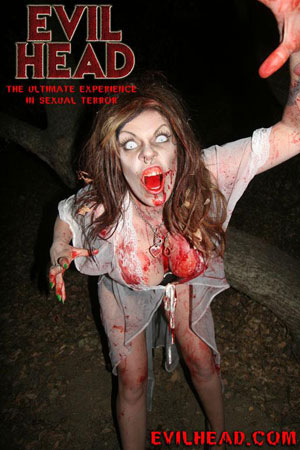 On the movie front, I just finished directing a few scenes for the interactive DVD horror game 'Slumber Party Slaughterhouse' and that
just came out on DVD along with my Warped Tour slasher film sequel, Punk Rock Holocaust 2, which you can order at www.halo8.tv/! You can also check out the series at www.punkrockholocaust.com
Also, I just finished directing a music video for my friends, the band Nassau Chainsaw/Disgraceland Demolition Squad (who I also perform
flesh hook body suspensions with); you can check it out on my You Tube page along with tons of other videos and trailers at\ www.youtube.com/dougsakmann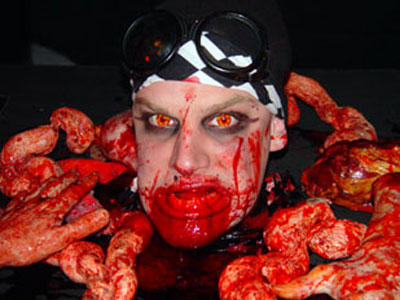 There are going to be some new Post-Mortem Pinups up soon on www.postmortempinups.com and you can buy limited edition prints right now! We're also working on a book and a calendar! Also, a game show we created that I co-host with Joanna Angel is doing quite well, it's called Strip for Pain: America's Most Dangerous Game Show. The show pits three men up against the girls of Burning Angel. The girls inflict increasing levels of pain on the contestants (which include fire, electrocution, whipping and much more), and if they can take the pain, the girls strip. If a contestant can take the pain all the way, the girls will take it all off and give the winner a lapdance. We've been performing the show live in nightclubs across the nation for the last six years, and recently, we have a TV Pilot for the show and a number of live versions which are all available at www.stripforpain.com
There is a lot more coming soon but I don't want to go on too long….you can stay tuned at our production company website at
www.backseatconceptions.com