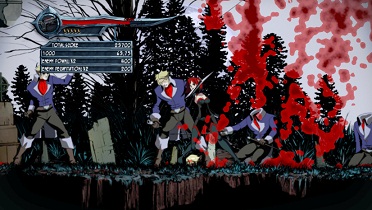 Get Into the Spirit with BloodRayne: Betrayal!
What better way to celebrate the holidays than with a sexy half-vampire/half-human and tons of blood? Majesco Entertainment announced today that its recently released 2D side-scrolling digital download action platformer, BloodRayne: Betrayal, is now available as part of Microsoft's two-week-long Shocktober promotion for Xbox LIVE® Arcade for the Xbox 360® video game and entertainment system from Microsoft for only 1,200 Microsoft Points ($15.00 USD).
The original video game femme fatale, Rayne, has returned to battle and feed in a brand new hack 'n slash adventure developed by WayForward, the seasoned team behind some of gaming's most critically acclaimed brand reinventions.
BloodRayne: Betrayal delivers over-the-top stylish action with a healthy dose of bloodshed. You are Rayne, the sexy dhampir with superhuman strength, speed, and agility, recruited by the vampire hunting Brimstone Society for one last mission. The target is a lavish, yet sinister, ball in a secluded castle with plenty of dark surprises.
With the help of a mysterious friend, and members of Brimstone, Rayne must infiltrate the manor, take out the fiendish horde, and stop an evil master plot once and for all. For more information about BloodRayne: Betrayal, please visit