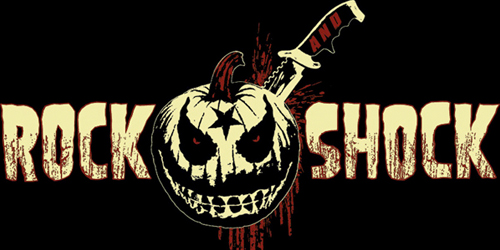 If Halloween is like Christmas for horror fans, then Rock and Shock is my Christmas eve. If the name doesn't ring a bell, Rock and Shock is a horror convention in Worcester, Massachusetts that takes place each year in mid-Octobter. While some other cons may have bigger guests and larger attendance, Rock and Shock stands out for combing horror with music by featuring live concerts in addition to your standard convention fare. I look forward to it every year, and 2011 proved to be yet another successful one in the books.
This year's festivities were a little different, with a pre-show concert headlined by Alesana on Thursday night. I didn't attend that; for me, the convention started on Friday night. The first day is usually spent marveling at the wonders of the vendor and celebrity rooms, both of which had a ton of great things for any horror fan.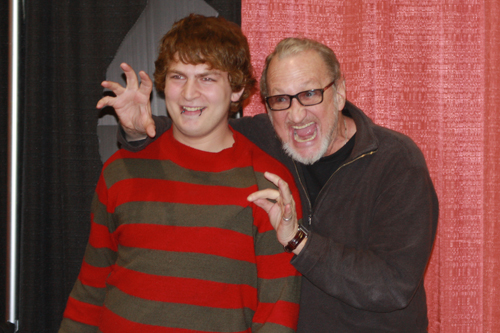 Some of the bigger names that appeared at this year's Rock and Shock were Robert Englund (A Nightmare on Elm Street), Lance Henricksen (Aliens), Gary Busey (Predator 2), Roddy Piper (They Live) and Ace Frehley (Kiss). All of them had long lines throughout the weekend, with Englund unsurprisingly being the biggest draw. Despite the long wait and high price, he comes off as one of the nicest celebrities.
Unfortunately, there was an unusually large amount of a last-minute cancellations for a variety of reasons. Those missed include Heather Langekamp (A Nightmare on Elm Street), Jon Bernthal (The Walking Dead), Norman Reedus  (The Boondock Saints) and Sean Patrick Flanery (The Boondock Saints). Bernthal and Reedus were reportedly absent because AMC made them go to New York Comic-Con to promote the new season of The Walking Dead instead. Even with the absentees, the guest list was still packed with faces both old and new that horror fans love.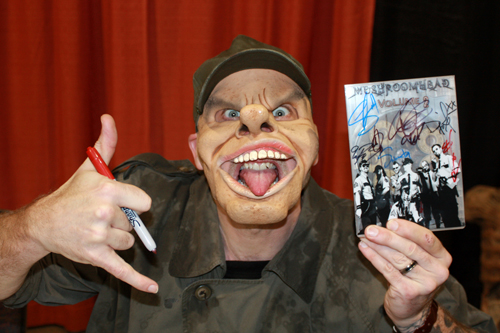 I headed to The Palladium down the street to see some of the bands perform on Friday night. I arrived just in time to catch hardcore legends Earth Crisis. They played a solid set, but it was strange seeing them on such a large stage with a barricade, and most of the audience seemed disinterested. Their half hour set was mostly made up of material since their reunion in 2007. They ended with the old fan favorite "Gomorrah's Season Ends," but I was completely shocked that their classic "Firestorm" was absent.
Up next was Otep. I'm not a fan of the band on record, but their live show is interesting. Vocalist Otep Shamaya has a cult-like following, which was fascinating to witness from an outsider's perspective. I left after that since I had a long weekend ahead of me, but the rest of the night included performances Devin Townsend Project, Cavalera Conspiracy and Mushroomhead. Apparently none other than Gary Busey came out to drum with Mushroomhead during their headlining set.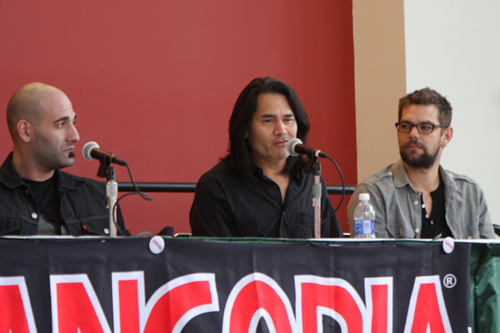 One of my first orders of business on Saturday was attending the Here And Now Horror Panel. Moderated by Kristy Jett of HorrorHound Magazine, the Q&A featured Nick Principe (Laid to Rest), Nathan Baesel (Behind the Mask: The Rise of Leslie Vernon), J. LaRose (Saw III) and Kip Weeks (The Strangers) discussing the current state of horror and their contributions to it. Principe was the most animated of the bunch. He is obviously "one of us" and makes no qualms about it. Conversely, LaRose is incredibly soft-spoken, despite his horror resume. It was Weeks' first ever convention, and he seemed to be enjoying himself.
I later caught the tail end of The Many Faces of Jason Q&A with Kane Hodder (Friday the 13th Parts 7, 8, 9 and 10) and Derek Mears (Friday the 13th remake). Despite being known for portraying a relentless killer, both of these guys are hilarious, and seeming them together is a treat. Mears is consistently one of the nicest guests at any convention.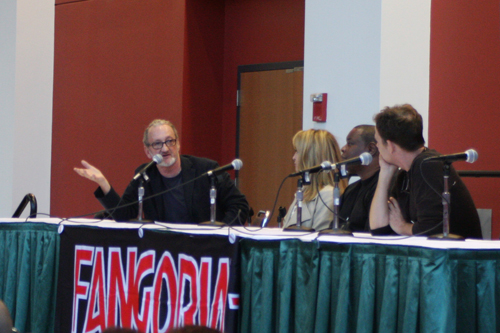 After that was the A Nightmare on Elm Street Q&A with Amanda Wyss (Part 1), Mark Patton (Part 2), Ken Sagoes (Parts 3 and 4) and Freddy Krueger himself, Robert Englund. Englund has great anecdotes from working on all eight of the original Elm Street films and is always eager to share them. Perhaps the most interesting portion was hearing him and Patton reflect on the now-legendary homo-eroticism of Freddy's Revenge. Patton, who left the industry after the film, is returning in the near future with a documentary entitled There Is No Jesse, which sounds like a neat look at his side of the story. I found it funny how similar Sagoes' personality is to his humorous Roland Kincaid character.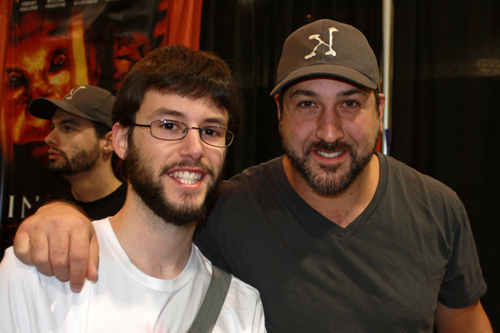 Englund and William Forsythe (The Devil's Rejects) were at the show, in part, to promote Inkubus. The independent film was shot in Rhode Island and had its premiere at Rock and Shock. A good portion of the cast and crew showed up to celebrate and participate in a free signing, including director Glenn Ciano and writer Carl V. Dupre (Hellraiser: Hellseeker). The biggest draw, however, was former 'Nsync member Joey Fatone. The guy has probably signed a million autographs in his day, but he was more than happy to sign, chat and pose for photos with everyone who came through.
I missed the premiere of the film that night. From the general feedback I gathered, Englund is good as always but the movie suffers from the typical trappings of a low budget production. I also chose not to go see Insane Clown Posse – which I was considering for the novelty. Instead, I attended a midnight screening of The Dead in Boston. This was not part of Rock and Shock, but director Howard J. Ford was a last minute guest for the event since he was in town for the screening.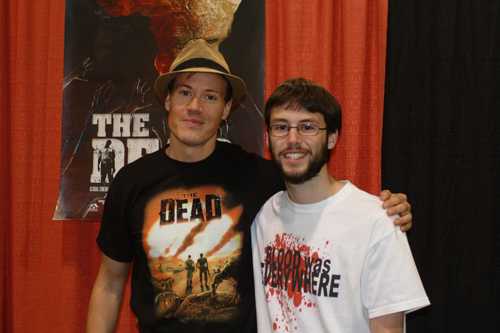 The Dead may be eclipsed by the behind-the-scenes turmoil that took place during production. Shot on location in West Africa, lead actor Rob Freeman contracted malaria and nearly died, the majority of the crew became violently ill, and they were robbed at gunpoint under the perception that they were rich. Freeman plays Lieutenant Brian Murphy, the sole survivor of a military plane crash in Africa, which has become overrun with the walking dead. As if the cast and crew risking their lives wasn't reason enough to give it a shot, the end result manages to feel both conventional and fresh. The Dead is like the movie you wish George A. Romero made after Day of the Dead.
A highlight of Sunday was catching the premiere of A Beary Scary Movie. The film stars the members of the band iwrestledabearonce – vocalist Krysta Cameron, guitarists Steven Bradley and John Ganey, bassist Mike "Rickshaw" Martin and drummer Mike Montgomery – who were also in attendance. Directed by Justin Beasley, the movie is something like Troma parodying A Nightmare on Elm Street, in which a glam rocker known as Shreddy who was burned alive comes back to kill. It's cheesy, lowbrow and crass, plus there's a cameo from Jake Busey! The hour run-time makes it easily digestible. It's more fun if you're familiar with the music scene, but it's still enjoyable otherwise. Even if you're not a fan of the band's abrasive music, you can merely skip the opening and closing performance scenes and still have blast.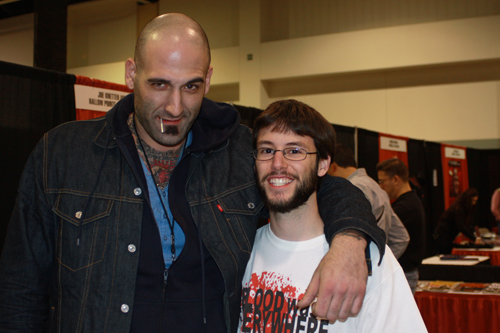 Sunday is always the slowest day of any convention, a bit moreso this time because there was no concert that night, but that also means that it's the best time to meet the celebrities or wander around the vendor room. I briefly spoke to a couple of the guests. Nick Principe, a New England native, used sing in a local metalcore band called Closer Than Kin, so he and I reminisced about that. He informed me that he started a new band in the same vein that will be recording soon.
I spent much of my downtime throughout the weekend at the booth for Blood Was Everywhere, an independent slasher film that I worked on last summer. It will have its premiere on November 5 at the Green Room in Uxbridge, MA before expanding to other independent theaters throughout the country, so keep an eye out! Shout outs to our neighboring vendors, including Bill Zebub (be sure to check out his film Antfarm Dickhole!), Coolidge Corner Theatre (Boston's best independent theater) and AH Digital (international DVD imports from a nice guy).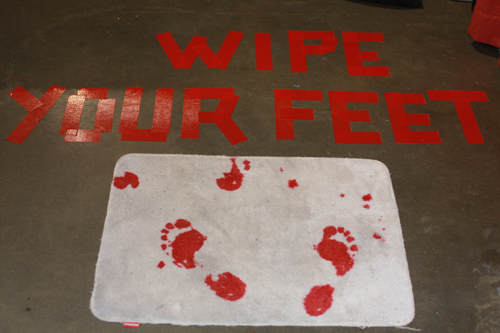 While on the subject of acknowledgments, I must praise Gina Migliozzi. As one of the founders of Rock and Shock, she has been a driving forces behind the convention since the beginning and has always been hospitable. Sadly, this year was her last. I wish her the best of luck with her future endeavors and extend my gratitude for all of the fun and memories. Additional recognition goes to co-founder Kevin Barbare, who will continue to carry on the tradition in the years to come. I know I will keep coming back, and I hope you do as well!