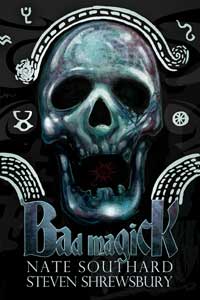 BAD MAGICK by Nate Southard & Steven Shrewsbury (Limited Edition)
With only 150 copies being produced this edition will go fast so order soon.
In 1901, famed mystic Aleister Crowley passes through a barbaric land known as El Paso, Texas. There he meets a one-armed confederate and a Russian monk known as Rasputin.  Together, these outcasts stand witness to the terrible things men can do in the name of civilization, things normally locked behind closed doors or hidden deep in the shadows.
When a band of militant Jesuits arrives in search of the prayer shawl of Mary, El Paso's barbarism is eclipsed by religious brutality, but when a white buffalo appears, only Crowley and his new companions stand between mankind and oblivion.
"What do you get when you mix a shot of absinthe and a shot of Tennessee whiskey? That'd be BAD MAGICK, a tag-team novel by Steven Shrewsbury and Nate Southard. These two writers shake up a couple of mythic voices and slam them down hard. Which is another way of saying that the absinthe is Aleister Crowley, and the whiskey is a one-armed Civil War vet who's also a walking arsenal, and together they make for one potent brew." Norman Partridge author of DARK HARVEST