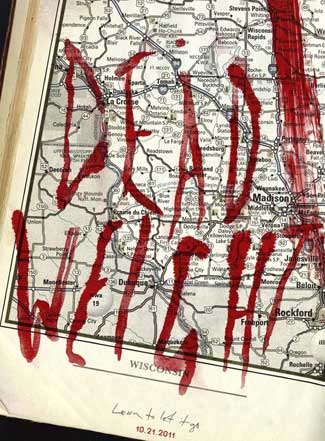 Last week, the low-budget horror film DEAD WEIGHT from Head Trauma Productions began filming in Oshkosh, Fisk and Pickett, and is expected to wrap up in May with a final shoot in a Neenah alleyway. Production on the film began on April 17, and in the film, a man named Charlie is desperately seeking to reunite with his girlfriend Samantha. Unfortunately for him, several hundred miles stand between him and the woman he loves as society crumbles around him in a violent onslaught as a viral outbreak wreaks havoc in the country.
The creators of the film want to firmly emphasize that their film DEAD WEIGHT is not just another zombie flick, but "a dramatic telling of a survivalist story with strong horror elements."
Synopsis:
"Seven hundred miles lie between Charlie and all that he has to live for. All that stands in his way is an apocalyptic viral outbreak, bands of malicious survivors and, perhaps more menacing, his own emotional burdens. Alongside his new found traveling companions, Charlie must attempt to find a way to break his obsessions with the past, or deal with the consequences of his decisions. He must learn to let it go."
Written and directed by John Pata and Adam Bartlett the film stars Joe Belknap, Mary Lindberg, and Aaron Christensen. DEAD WEIGHT has an estimated premiere date of October 21, 2011 at the Time Community Theater in Oshkosh. Ticket prices will start at $5.00 per person.
There are quite a few promotional sites for the film so check out the DEAD WEIGHT Official Site located here: www.carryingdeadweight.com Or you can hit them up on their Facebook page: www.facebook.com/carryingdeadweight
Catch up with the terror on their blog: deadweightmovie.blogspot.com/
 and follow them on twitter for more information on this project: twitter.com/#!/deadweightmovie
Poster: Source: www.facebook.com/carryingdeadweight