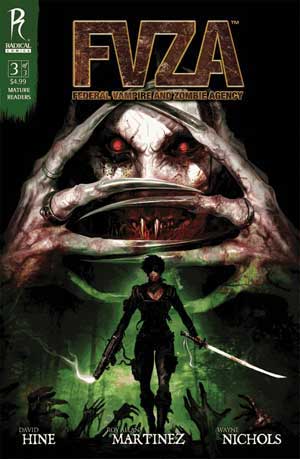 FVZA – FEDERAL VAMPIRE AND ZOMBIE AGENCY ISSUE #3 (COMIC)
Writer: David Hine
Conceived By: Beau Flynn & Tripp Vinson
Illustrators: Roy Allan Martinez, Wayne Nichols
Letters: Richard Starkings & Jimmy Betancourt
Editor: Luis Reyes
Covers: Yang Xueguo & Clint Langley
Based on the website: FVZA.org created by Richard S. Dargan
Publisher: Radical Publishing
Publication Date: 2009
Format: Color – 48 pages
Price: $4.99
Working our way thru the new hi series FVZA, we find ourselves in issue #3. The vampire underground moment has gotten out of control and it's up to the agency to send in some of their best troops to flush them out. the mission? To kill and set explosives to wipe out the vampire population. It's rumored that the Queen is also occupying the inner sanctum which is the prime target of the bunch. Soldiers are taken out left and right by overly aggressive vampires who's speed and cunning within the shadows is no match for several of them.
In the course of prepping the squad to go into hunt mode, we find out a few revelations . I'm not sure I should spoil all the fun by commenting on all of them, but this 3rd issue (3 of 3) rounds out the secrets that the series has been leading up to. I will say though that it also sets itself up for a potential sequel.
The painted artwork is damn fine to look at and really helps sell the creepiness of these vampire-zombie creatures. You'll also find a reason to look within your heart-felt moments as the details unfold. That Queen vampire…she kind of reminds me a bit of Gary Oldman from "Bram Stokers Dracula"….nasty, bald and old!
The issue has the team heading out to plan an underground attack as the vampire virus has been rumored of a new strain that will end all. Are you excited yet? you should be, this is some quality horror comic reading here. Talents include David Hine, Roy Allan Martinez and Wayne Nichols. There is also 2 cover variants on this issue. Both have slick looking covers. I also just received the full edition TPB version, so if you are new to this then your best bet is to grab the big guy which contains all 3. Though back to issue 3, a really fitting end to what I hope to be a continued series.
If you would like to know more about or purchase a copy of FVZA: Federal Vampire and Zombie Agency #3 please go to www.radicalcomics.com