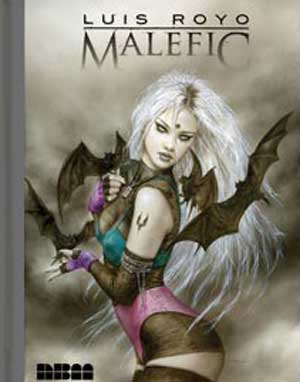 MALEFIC LUIS ROYO
Written by Luis Royo
Published by NBM Publishing, Inc.
Publication Date: 2010
Format: Color – 96 pages
Price: $32.99
Luis Royo is a rare talent that not "only" creates pretty pictures but creates worlds within pictures. The level of detail and commitment is evident in every work he creates. This book titled Malefic collects some of these pieces into a beautiful hardcover collection that combines fantasy, horror and a blend of scifi mythological. I confess to being a latecomer on his works. Not because of lack of interest but because I tend to not sway from my few top favorites in an effort to keep a stylized focus.
Malefic is really my first Luis Royo book, but upon review I was instantly pulled into his universe with ease. My first thought was wow what beautiful women he uses in his pieces. I assume these to be referenced from model shots, though I really can't confirm. Regardless, they are usually exotic looking, well endowed, sporting thick hips and sultry bodies. Everything you want in your fantasy ladies and more.
My first image to comment on is "Memory in White". The lady in white rides her unicorn without fear from the diabolical dragon that lurks overhead, Unicorn and female glisten with a radiance of white that flies off the page. Colored pencils, paints ….all remarkably precise giving it a blend of gritty and beauty all rolled into one. "Emerging from Red" sits one young voluptuous she-warrior adorning odd lethal apparel while the sky and ground pulls at her with ominous intent. Somehow though, you know she'll escape and be there in your dreams. "Night in Red" pays homage to the vampiress who's gaze and handheld dagger suggest a purpose that overwhelms her lethal beauty. vampire bats hover overhead though we know that fear is not her concern.
"Black Flights" is a true interpretation of the bat woman character we wished had surfaced in the film world. Strong, confident with black leather flowing from her body like a celebration of flesh and darkness. "Howls of silence" is a stunning piece that features 1 warrior with sword in hand unaffected by the whirling mass of dark demonic clouds gathering around her. Light emanates a glow that suggests a pureness untouched by the rogue masses of cloud formations.
Further illustrations paint different themes featuring men and women in similar situations. Often the female featured emanates that glow that Royo brings so well surrounded by dark forces or victims of the subjects aftermath. Even with heavy and elaborate armors the female subjects are represented pants less and erotically enticing with breasts hanging free without shame or concern.
The idea of beauty and the beast is a pretty frequent approach with horrors abound, wastelands, and usually a single female subject taking the forefront. "Steel for Leonard's Dream" is one such image that showcases Royo's ability to create really elaborate outfits. Again leather….. but in a a way that simulates a hawk, blade and bondage all wrapped in one. The book ends on a chapter of unfinished works that further illustrate the world of Malefic. Through out we get finished pieces, often next to starter sketches and colored pencil workings.
The highlight falls into the finished art, however the process is better understood thru these addictions. A beautiful,collection and imaginative world that can only be Royo!
Available at NBMPUBLICATIONS
Available at Amazon