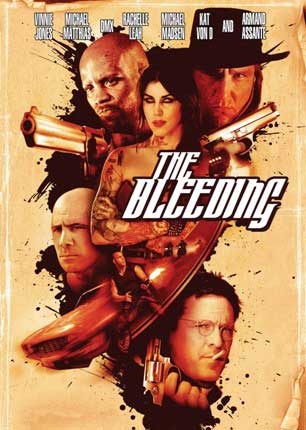 Surrounded by dozens of blood-thirsty vampires, Shawn Black is in a race to save the world from pure evil…ANCHOR BAY ENTERTAINMENT PRESENTS THE BLEEDING
Join The Hunt March 1st on DVD
Beverly Hills, CA – Anchor Bay Entertainment, in association with Gigapix Releasing and Iron Bull Films, will release the vampire thriller The Bleeding on DVD March 1, 2011. In the tradition of Blade, The Lost Boys and From Dusk Till Dawn, The Bleeding is an action-packed tale of fangs, guns, tattoos and frontier justice on the mean streets, and features an all-star cast including Vinnie Jones (X-Men: The Last Stand, Snatch), Michael Matthias rap superstar DMX (Romeo Must Die), Rachelle Leah, Michael Madsen (Reservoir Dogs, Kill Bill Vol. 1 and 2), tattooed reality star Kat Von D ("L.A. Ink") and Armand Assante ("Gotti," American Gangster, Judge Dredd). SRP is $26.98 and pre-book is February 2.
Shawn Black (Matthias) knows pain. His parents and brother were killed in front of him. Beaten, bloodied and left for dead by a gang of ruthless vampires led by the charismatic Cain (Jones) and his lethal lieutenant Vanya (Kat Von D). But like his would-be murderers, Shawn has come back from the brink of death to take his revenge. He soon comes upon Reverend Roy (Madsen), who reveals to Shawn his calling as a "slayer," the only human capable of truly destroying vampires.
Dark, brooding and with a palpable layer of cowboy justice, The Bleeding spins a tale of otherworldly influences running headlong into the very human thirst for revenge. Redemption comes with a heavy, and bloody, price in The Bleeding.
About Anchor Bay Entertainment
Anchor Bay Entertainment is the home entertainment division of Starz Media, LLC. It includes the Anchor Bay Films and Manga Entertainment brands. It distributes feature films, children's entertainment, fitness, TV series, documentaries, anime and other filmed entertainment on DVD and Blu-ray™ formats. It is the exclusive distributor in the U.S. of the theatrical titles from Overture Films. Headquartered in Beverly Hills, CA, Anchor Bay Entertainment has offices in Troy, MI, as well as Canada, the United Kingdom and Australia. Starz Media (www.starzmedia.com) is a controlled subsidiary of Liberty Media Corporation attributed to the Liberty Starz tracking stock group (NASDAQ: LSTZA).
# # #
FOR MORE INFORMATION, CONTACT:
Ed Peters
Sue Procko Public Relations
323-653-5153 x227
THE BLEEDING DVD
Street Date: March 1, 2011
Pre-book: February 2, 2011
Cat. #: DV22526
UPC: 0 1313 22526-9 8
Format: Anamorphic Widescreen (2.35:1)
Audio: Dolby Digital 5.1
Run Time: 83 minutes
Rating: R
SRP: $26.98
Genre: Horror/Action
Subtitles: English, Spanish
Bonus Features: Cast interviews; makeup & effects; stunts; trailer