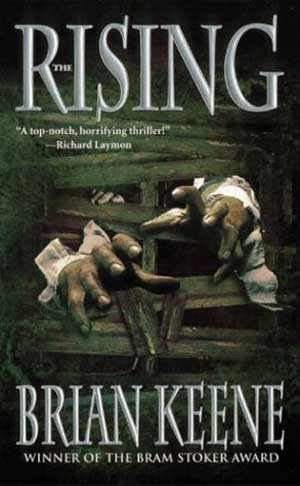 THE RISING
Author Briane Keene
Published by Leisure Books
Publication Date: 2004
Format: Black /White – 336 pages
Price: $7.99
The Rising is by far the most original and controversial horror novel I've ever had the privilege of reading. I'll get to you on the controversial part in a few moments after I explain why this book is really good. Zombie novels are one of those books where horror fans and readers alike, like to read and get immersed into a world that is overrun by the living dead who just happen to have a insatiable hunger for human flesh. Every zombie novel has that. But when was the last time you have read a zombie novel that really, really scares the sh*t out of you? A long time right. Well The Rising gives you a whole new reason to fear the dead.
One of the many reasons is, these zombies in this novel aren't your typical George A. Romero zombies. These zombies are ferocious in every sense. They're very lethal than your average zombie that stumbles around slowly with arms outstretched. The zombies portrayed in this novel have been upgraded. Think of the zombies in the movie The Return of the Living Dead, the zombies in this book are just like those. They run, they can talk and not only that they can ambush their prey.
That's a scary thought right there. There are times where people either prefer slow moving undead corpses as oppose to fast moving corpses. Personally in this day and age, I think fast moving zombies are the way to go. I'm not going to drone on about the plot because pretty much when you pick up the Leisure novel and see a pair of hands coming through a boarded up window and the title The Rising in large letters, you pretty much have an idea what this book is about.
The plot's very good. I don't have any problems with the plot. It's the ending that has managed to piss off a lot of horror fans. It's controversial in a good way; it's not every day we get an ending like this. Basically it's very rare, most horror novels end up having cheapened endings where the reader feels that he or she has been ripped off. That may or may not be the case for The Rising. Brian Keene knows how to leave one hell of a cliffhanger.
The characters in this novel feel real, they feel like you know these people, even the antagonists of the story feel real. Some of the scenes in the novel are really heartbreaking in a way. There is a lot of death and a lot of obstacles the main characters have to go through, not just from the undead, but from the living as well. The whole world is falling apart and these main characters are stuck in it.
One of them is trying to get to his son while the others are just fighting to survive in a world where everything that dies, comes back to life with a hunger for human flesh. If you're looking for a book that will keep you up at night, I highly recommend this book to you.
Available at Amazon
Available at Leisure Books