Greetings, boys and ghouls! Welcome back to Horror Talk, hosted once again by your friendly neighborhood gorehound and indie filmmaker extraordinaire, Travis Legge. Not only have I survived so far, but I even got a shout out from the boss-lady, the lovely Dai Green over on the horrornews podcast-THE GASH for the fine work going on here at Horror Talk. Happy to take care of your baby, Dai, and glad you're digging what you read.
So let's get down to business, shall we?

In movie news, a few big announcements have come out of Warner Bros. this week. Last Wednesday the Friday the 13th blog "inadvertantly released publicly" a rumor regarding a new Friday The 13th sequel. Quickly removing the article from their site (but not quickly enough to prevent information from spreading like wildfire throughout the horror community) site contributor jasonsfury pulled down the original blog and posted a clarification which pretty much stated that there had been no official word, but the site "can say in good faith that" there is a new Friday the 13th sequel in the works through Warner Bros. and that Platinum Dunes is not involved.
As I have stated before, I am totally available to direct. Come on, Warner. Make the right call here.
A second announcement came this week from the Warner camp, this one official, that the rights to the Buffy The Vampire Slayer remake have been secured by Warner Bros. and that Charles Roven (one of the guys responsible for the Nolan Batman films) and Steve Alexander (who produced the Nic Cage film Season of the Witch, and is also attached to a new film adaptation of the Destroyer novels).
Of course, the internet freaked out when the announcement verified that Buffy creator Joss Whedon would not be involved with the film. Whedon trended on twitter for days after the announcement as his legion of fans rose up in 140 character bursts of protest.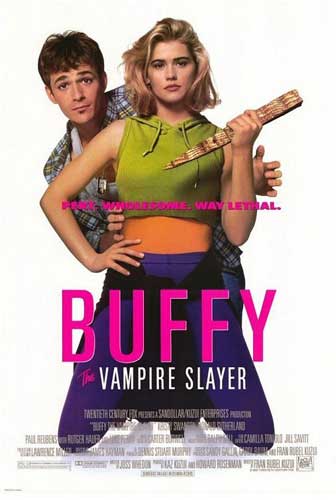 I, for one, am on the fence about this news. I personally enjoyed the first Buffy film, which Whedon wrote, did not direct, and all but disavowed later. I gotta admit that a new take on Buffy kinda gets my blood pumping. I guess we will see if this remake can finally make its way out of development hell in the hands of Warner Bros.
I am not ashamed to admit that I am a Roddy Piper fan. I love the guy's work and I have since childhood. So when I saw that he was in a new film, Legion: The Final Exorcism, I was stoked! When I saw that the trailer was online I was EVEN MORE stoked. Then I watched the trailer and there was not a Piper to be seen in it.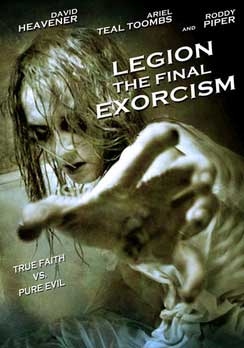 That may be an exaggeration. There are some shots of Ariel Teal Toombs, who is Piper's daughter, in the trailer. There is also one severely back-lit shot of a bald guy  that might have been Piper…maybe that's their marketing ploy? People will be forced to buy the DVD when it comes out in January to find the Hot Rod! In any case, Piper will certainly not be featured so prominently in Legion: The Last Exorcism as he was in the classic John Carpenter's They Live. Which is kind of sad.
And speaking of John Carpenter, a new release date for the upcoming prequel to The Thing has been announced. Universal has slated the release for October 14, 2011.
Considering that the release was pushed back for reshoots to improve the story and clarify plot elements for the audience, an October release gives them ample breathing room. However, it begs the question: how bad was the first cut?
In indie horror news, the trailer and one sheet for J.A. Steel's Blood Fare dropped this week, and I couldn't be more excited. I've been following the progress of this film on twitter for some time and its good to see this film is finally getting out there! Can't wait to see it!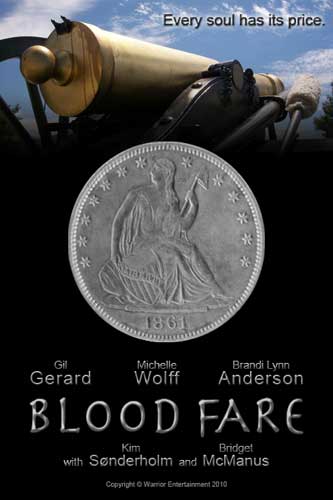 Here's the plot synopsis from the Warrior Entertainment website "Corporal Henry Trout fought valiantly in the forgotten skirmish of the Lethe Confluence during the Civil War. The year was 1861. In 2011, he will come face to face with his descendants as the battle for blood begins. Tyler and her brother Chad, Henry's fifth generation grandchildren, will challenge the very legend of Charon the Ferryman, as the lines between the living and the dead become blurred."
And if that wasn't sufficient to convince you that this movie is going to be awesome, It's got Gil "Buck Rogers" Gerard in it.
At the Box Office, Paranormal Activity 2 and Saw 3D finally fell from the top 10, after dominating theaters since Halloween weekend.
The only other horror film in theaters this week was the indie film Heartless from director Phillip Ridley, which opened on a single screen bringing in $2,033. Distributed via IFC, the Heartless IMDB page offers this synopsis: "Jamie Morgan, a young man with a large heart-shaped birthmark on his face, discovers that there are demons on the streets of East London."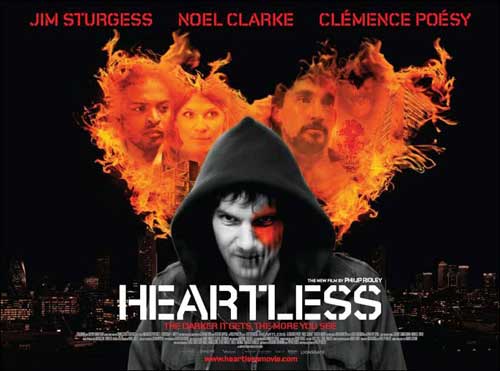 As I'm sure you all have holiday festivities to get to (and so do I) I'm going to cut it a little short this week and bow out on a personal note. As you may know, I am wrapping up post-produciton on my first feature film, Raymond Did It that will be released in theaters on February 11, 2011. We are reaching out to horror fans to create a STREET TEAM to support the film, and I would be incredibly thankful if you would stop by my blog or the official Raymond Did It website and check it out. Let me know what you think. Let your friends know what you think. We've got some big things coming this holiday season for members of our STREET TEAM, so if you like what you see, join up!
Before we light the pyre on this week's column, I would like to wish a happy birthday to Garret Dillahunt
Garret took on the role of "Krug" in the remake of Last House on the Left, which could have been a disaster in the hands of a lesser actor. That alone merits your place in horror history! Have a happy birthday! The rest of you have a happy turkey day.
Many Bloody Returns,
Travis Legge