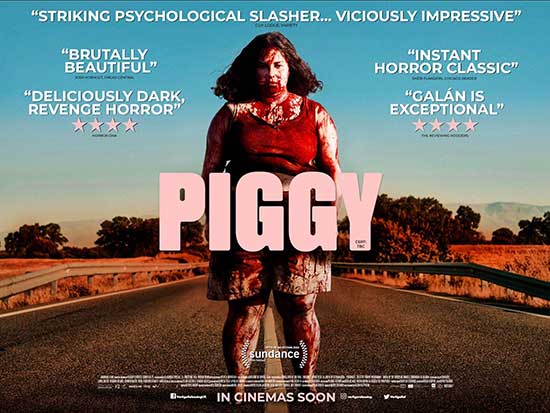 PIGGY
WILL BE RELEASED IN UK CINEMAS AND ON DIGITAL PLATFORMS
6TH JANUARY 2023
Vertigo Releasing is thrilled to announce that PIGGY will be released in UK cinemas and on digital platforms from the 6th of January 2023.  It is written and directed by Carlota Pereda and stars Laura Galán, Richard Holmes, Carmen Machi, Irene Ferreiro and Camille Aguilar.
PIGGY is a bold and strikingly ominous adaptation of Pereda's award-winning short film of the same name. It is the story of Sara, an isolated and misunderstood teenager at the mercy of a particularly vicious group of bullies. Persecuted because of her size, and accustomed to her space in the margins of society, she faces a grueling dilemma when one of the girls who bullies her is kidnapped by a violent stranger.
A Morena Films and Backup Media production, PIGGY premiered at Sundance 2022 and Frightfest 2022 to wide critical acclaim. It has been described as a 'deliciously dark, distressing revenge horror' (Becky Roberts, Horror DNA) and a 'viciously impressive debut' (Guy Lodge, Variety). 
PIGGY WILL BE RELEASED IN UK CINEMAS AND ON DIGITAL PLATFORMS 6TH JANUARY 2023