Panic-Inducing Thriller LOW LIFE Arrives Next Thursday, August 25th!
A hunter of sexual predators finds himself caught in a game of
cat-and-mouse when his prey enters his home.
The shocking new XYZ Films release
hits VOD nationwide next week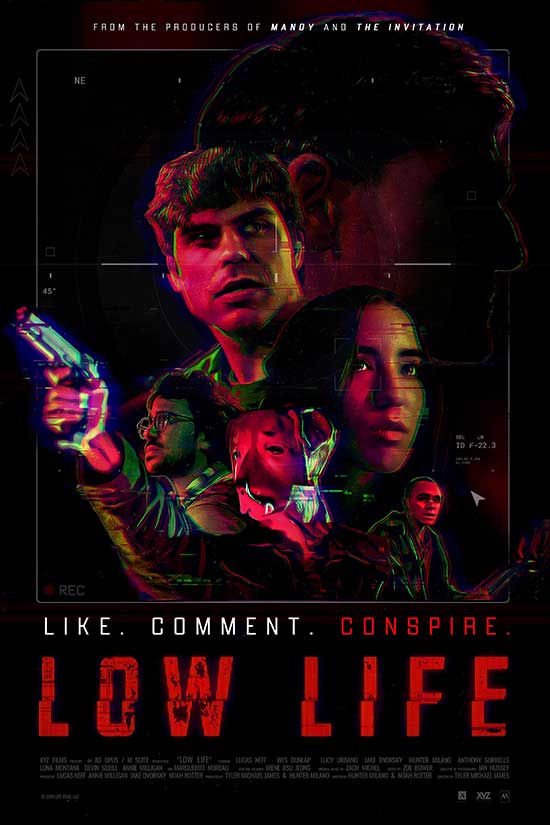 In LOW LIFE, Benny, a small time YouTube star who catches predators online, experiences a night from hell when he lets one of them into his own home.
A modern thriller for the digital age, LOW LIFE is a taut, vividly executed, and wholly original independent debut feature from an exciting new voice in genre fimmaking. Using the language and anxieties of 2022, the film crafts a thrilling cat-and-mouse dynamic between two different kinds of predators. Starring Wes Dunlap, Lucas Neff, and Luna Montana, the picture is produced by Noah Rotter, Annie Milligan, Hunter Milano, Jake Dvorsky, and Tyler Michael James.
 About XYZ Films
XYZ Films is an independent studio whose mission is to empower visionary storytellers from every corner of the planet. XYZ was founded in 2008 by Nate Bolotin, Nick Spicer, and Aram Tertzakian and has expanded in recent years into documentary, talent management, and distribution. Some of the company's classic titles include THE RAID franchise, 2017 Sundance winner I DON'T FEEL AT HOME IN THIS WORLD ANYMORE, and Panos Cosmatos' psychedelic revenge thriller MANDY.