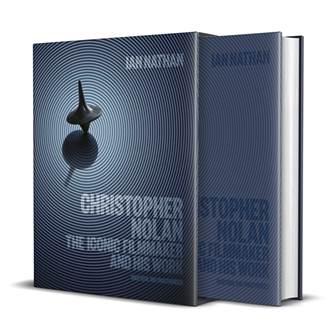 CHRISTOPHER NOLAN: THE ICONIC FILMMAKER AND HIS WORK by Ian Nathan
Publishing November 8, 2022, this comprehensive and in-depth study by film author Ian Nathan delves into the life and works of one of modern films most celebrated, successful and intriguing auteurs.
'What is the most resilient parasite? Bacteria? A virus? An intestinal worm? An idea. Resilient…highly contagious. Once an idea has taken hold of the brain it's almost impossible to eradicate.'  – Cobb, Inception
How has Nolan become this leading director? Is he the new Kubrick? What do audiences get out of his games? Visually, he offers a steely science-fiction noir with the highlights of big stars and a magician's flourishes, whether he is tackling Victorian London or the far reaches of outer space. In narrative terms, his films twist and turn, provoking as many questions as they answer. Best known for his cerebral, often nonlinear, storytelling, over the course of 15 years of filmmaking, Nolan has gone from low-budget independent films to working on some of the biggest blockbusters ever made.
This book will crack open the magic box of Nolan's twisting universe. As a character, he eludes easy answers. Veteran film author Nathan's research will lean into deciphering his cryptic pronouncements and motivations alongside the history and making of his films. Examining both the making of and the inspiration behind his many, many hit films, from The Prestige (2006) to the hugely successful Batman films, through to his mind-bending science fiction works such as Inception (2014) and Tenet (2020).
Filled with fascinating insights and illustrated throughout with cinematography from his visually stunning oeuvre, along with an 8-page gatefold section, this book offers a unique, important and unmissable insight into the mind of this most brilliant of directors.
Publishing November 8, 2022 ∙ 176 pages, 150 images ∙ $36 USD, $45 CAN ∙ ISBN: 9780711277120 ∙ White Lion Publishing