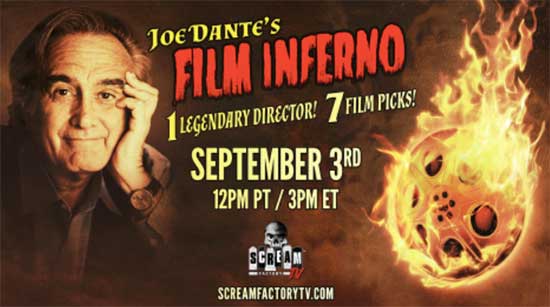 STREAM AND SCREAM WITH JOE DANTE!
Scream Factory TV presents JOE DANTE'S FILM INFERNO September 3rd at 12pm PT / 3pm ET
On September 3rd, legendary filmmaker Joe Dante (Gremlins, The Howling, Innerspace) will be curating a day of monstrous mayhem from the vast list of Scream Factory titles! Watch along with an all-time horror master as he provides new intros for each pick and explains why these devilishly diabolical films are near and dear to his heart.
Simulcast on Scream Factory TV, your home for cult horror, through the Shout! Factory TV app and Shout! Factory TV, available on most streaming platforms.
SCHEDULE
12:00pm PT
Attack of the Crab Monsters (1957)
1:30pm PT
The Hitch-Hiker (1953)
3:00pm PT
House on Haunted Hill (1959)
4:30pm PT
How to Make a Monster (1958)
6:00pm PT
King of the Zombies (1941)
7:30pm PT
The Last Man on Earth (1964)
9:30pm PT
The Sadist (1963)