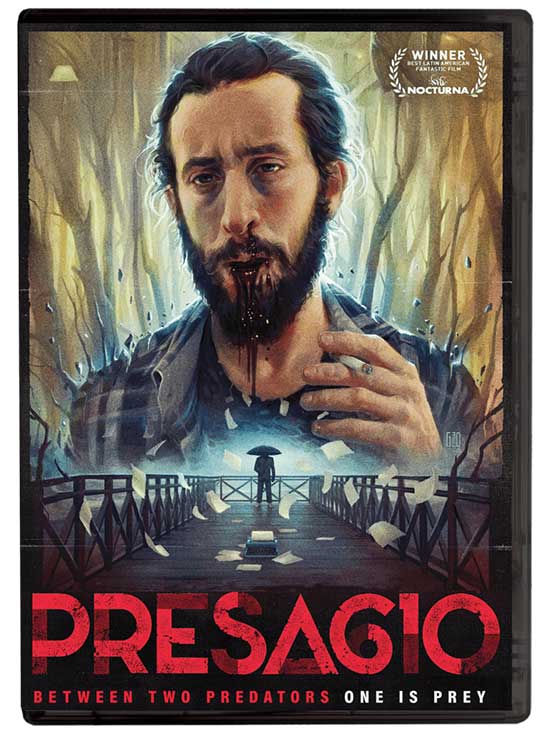 A YOUNG WRITER, TRAUMATIZED BY THE DEATH OF HIS FAMILY, STRUGGLES WITH REALITY IN THIS DARK,
PSYCHOLOGICAL THRILLER FROM ARGENTINA
PRESAGIO
Street Date: May 24, 2022
DVD/Digital: $24.95
Winner of the Best Latin American Fantasy Film at Nocturna, This
Audience Favorite at Genre Festivals Around the World Includes a
"Making of" Featurette and Deleted Scenes
Camilo, a young writer traumatized by the death of his wife and child, describes his disturbing experiences to a psychiatrist skilled in hypnosis. Meanwhile, in his waking life, there's a mysterious "umbrella" man, who's him to finish his painfully autobiographical novel, regardless of the consequences. Part thriller, part experimental horror film, director Matias Salins has crafted a gritty psychological voyage into the inner turmoil behind one man's dark despair and creativity.
Painterly cinematography blends hi-def imagery with early digital video camerawork and a brilliant score in this dark Argentinian thriller, an official selection at dozens of genre festivals the world over including Mexico's Morbido Film festival, Buenos Aires Rojo Sangre and the South African Horrorfest, captured the Best Latin America Fantasy Film at Madrid's Nocturna.
BONUS FEATURES
PROGRAM INFORMATION
Type: DVD/Digital (Amazon, iTunes, Vudu, Google)
Running Time: 90 minutes
Genre: Thriller
Aspect Ratio: 1.78:1
Audio: Stereo
Language: Spanish with English Subtitles