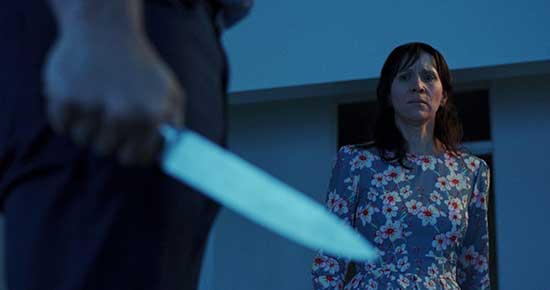 SLICK, SCARY SHOCKER HELD RELEASED IN THE UK
★★★★ "Intense…keeps the viewer on edge throughout" Starburst
"An uncommonly thoughtful and provocative suspenser" The Hollywood Reporter
★★★★ "A nasty, classy, creepy thriller" Live For Film
Bulldog Film Distribution announces that taut and terrifying thriller HELD is being released on DVD and digital platforms on April 25th.
Directed by Travis Cluff and Chris Lofing (the pair behind the Blumhouse horror sensation The Gallows and its hit sequel), with an assured script by Jill Awbrey, who also stars, HELD is a sleekly-shot shocker, where a couple's weekend getaway in an isolated, high-tech house turns into a nightmare after the phone rings and voice says "OBEY US!"
The film, which premiered at the Arrow Video FrightFest in London, features a marvellous lead performance by Awbrey in her debut feature role, with Bart Johnson (High School Musical) a charismatic screen presence as her husband. Cluff himself can be heard as the sinister voice that tells the couple "we know everything you did".
With elements of the Saw films, The Collector, and Demon Seed (the 70s classic sci-fi thriller about a computerised house gone wrong), HELD grabs your attention from the get go, pins you to your seat with a slow-mounting sense of dread, then hits you with a series of jolts and unexpected twists, all moodily scored by Richard Breakspear (Prey). You'll definitely think twice before booking a quiet weekend getaway in the countryside after this.
Synopsis:
A couple's ailing marriage is put to the test when they are held hostage in an isolated vacation rental by an unseen Voice that commands their every move and threatens harm if they don't obey.