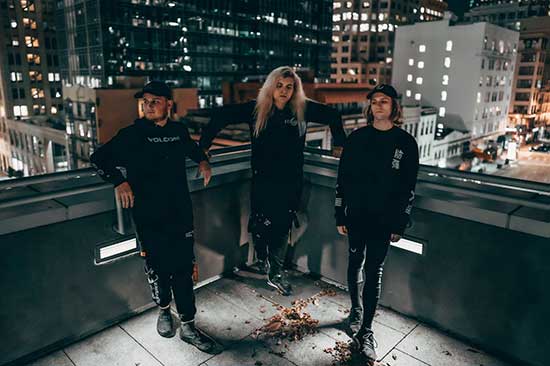 Today Ambient Post-Metalcore band Stillnight release their music video for "Eidolon." This star-lit visual accompaniment marks the final teaser before they fully unveil their full-length debut album "Dream State" on March 25, 2022. The band is innovating the post-metalcore genre by integrating ambience to build imagery within each song. The music is heavy sonically and lyrically as the band digs into the heavy emotions of melancholy, depression, and sorrow. Going beneath the tremendous roaring vocals and modern metalcore instrumentals of "Eidolon" is an introspective story about love and loss:
"If you've ever had someone that you felt like had a huge impact on your life or you felt like you couldn't live without, this song plays heavily into that theme. It's easy to feel uncomfortable, full of anxiety, and like your own head is screaming at you until someone comes along and silences the noise. This song is about feeling at peace in the presence of a particular person, not knowing how that can be possible, and then how it feels when you lose them. The lyrics as a whole can be viewed as a progression from a starting point and then a regression back to the original point, only now with the memory of having had something truly pure." – Stillnight
Stillnight is an American Post-Metalcore band consisting of vocalist Danny Sullivan, bassist Tony Rogers, and guitarist Kody Thompson. The group is bringing a new light to the era of modern metal music as ethereal ambient background cascades amongst the heavy riffs and crushing vocals. Their deep, emotional energy and introspective thoughts bring a darker, unheard side to the genre.
The band uses a genre label to describe their music, but not to define it. They trample the outdated expectations of metalcore by ranging from brutal breakdowns to somber verses to unlock an experience of deep emotional connection. Whether it's a deep personal tie or a response from the music itself, Stillnight aims to connect with the intense feelings within sorrow and melancholy.
Stillnight's debut record, Dream State, is set to release on March 25th, 2022. The trio plans to showcase their diversity through a wide spanning tracklist with something for every metalhead to relish in.
Stay up to date on Stillnight's upcoming announcements HERE.
Stream "Eidolon" on All Streaming Services HERE