Yellow Veil Pictures Acquires All North American Rights For Gaspar Noé's LUX AETERNA
The Saint Laurent Commissioned Film Stars Famed Actress Charlotte Gainsbourg and Béatrice Dalle, Theatrical Release Planned For Later This Year
Yellow Veil Pictures announced today that they have acquired all North American rights to Gaspar Noe's LUX ÆTERNA and are planning a theatrical release in May, followed later in the year by a full digital and collector's edition home video release. The film made its world premiere at the 2019 Cannes Film Festival and was later selected for the Tribeca Film Festival prior to cancellation due to the pandemic.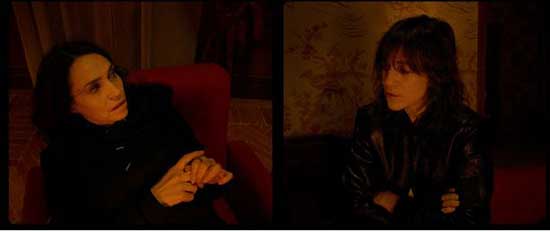 LUX ÆTERNA takes place backstage of a French film production, often utilizing split-screens to follow two characters at once. Charlotte Gainsbourg, acting as herself, plays the film's — and the film-within-a-film's — leading role of an actress taking on the role of a witch burned at the stake while French actress Beatrice Dalle, playing a version of herself as well, takes on the on-screen role of director. The film progresses with mounting tension as the set descends into aggressive chaos— both in style, form, and plot. Actress and model Abbey Lee (The Neon Demon), Karl Glusman (Love), Claude-Emmanuelle Gajan-Maull (Climax), Félix Maritaud (Sauvage / Wild, Knife + Heart), and Clara Deshayes also appear as interpretations of themselves.
LUX ÆTERNA is written and directed by Gaspar Noé (Climax, Enter The Void), and produced by Anthony Vaccarello for iconic French fashion label Saint Laurent, Gary Farkas, Clément Lepoutre, and Olivier Muller for Vixens, Lucile Hadzihalilovic (Vortex, I Stand Alone), and Noé.
"This is pure, unfiltered Noé; prepare yourself for the spectacle event of the year," said Yellow Veil Pictures Co-Founder Joe Yanick.
The deal was negotiated by Yellow Veil Pictures Co-Founders Hugues Barbier, Justin Timms, and Joe Yanick, with Wild Bunch International's Eva Diederix.