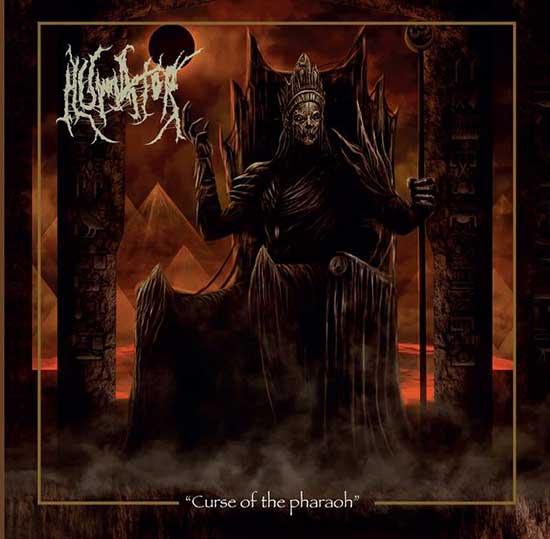 HUMATOR: Italian/German death metallers premiere title track of new album "Curse of the Pharaoh"
Today HUMATOR are premiering the title track of their new album "Curse of the Pharaoh" at Toilet Ov Hell. Stream it at THIS LOCATION!
More than a decade following the release of their promising debut, Italian/German death metallers HUMATOR are finally ready to unleash their second album, "Curse of the Pharaoh".
The band have recently signed to Italian label Time To Kill Records and the album will see an official release on February 28th 2022.
HUMATOR manage to walk the narrow line between old school riffs reminiscent of Cannibal Corpse, Monstrosity or Sinister and solos that could be straight from a Morbid Angel album with modern production that delivers a punch and makes it fit right in with modern death metal.
Inspired by Egyptian mythology and classic fantasy, the album takes the listener on a journey of slow and heavy, fast and brutal riffing, technical solos and melodic interludes, making for a release that can be enjoyed from beginning to end without ever feeling repetitive while clearly staying true to their own style.
Album tracklist:

1. Intro
2. Anachronism
3. Djed
4. Into the Crypt
5. Sadness
6. Nynu
7. Apep
8. Corporal Mortification
9. Born to be Sacrificed
10. Curse of the Pharaoh
11. Arisen from the Ashes
Originally formed in Sicily in 2003 by drummer Piero Geloso and guitarist Ray Caltagirone, HUMATOR made a name for themselves since their inception playing alongside a host of well-known local acts from various genres, as well as international metal giants such as Suffocation.
In March 2008, the band released the "Anger Castles" demo, which was followed a year later by the full-length album "Memories From The Abyss", a concept record based on the holocaust of WW2.
Shortly after the release of the album, HUMATOR moved to Germany and began the songwriting process for a new album with new guitarist Antonino Durante while performing live as much as possible, sharing the stage with bands such as Antropofagus, Screwed Death, Moronic, Debauchery, Devangelic and many other local acts.
In May 2018 Michael Bach (vocals) and Simon Moch (bass) joined the band and with this revamped line-up HUMATOR finally managed to complete work on their upcoming new album.
Line-up:
Ray Caltagirone: Rhythm Guitar
Piero Geloso: Drums
Antonino Durante: Lead / Rhythm Guitar
Michael Bach: Vocals
Simon Moch: Bass
HUMATOR
https://www.facebook.com/humator
https://www.youtube.com/humatorband
https://www.instagram.com/humator_official
Time To Kill Records
https://www.instagram.com/timetokillrecords/
https://www.facebook.com/timetokillrecords/
https://www.timetokill-records.com/