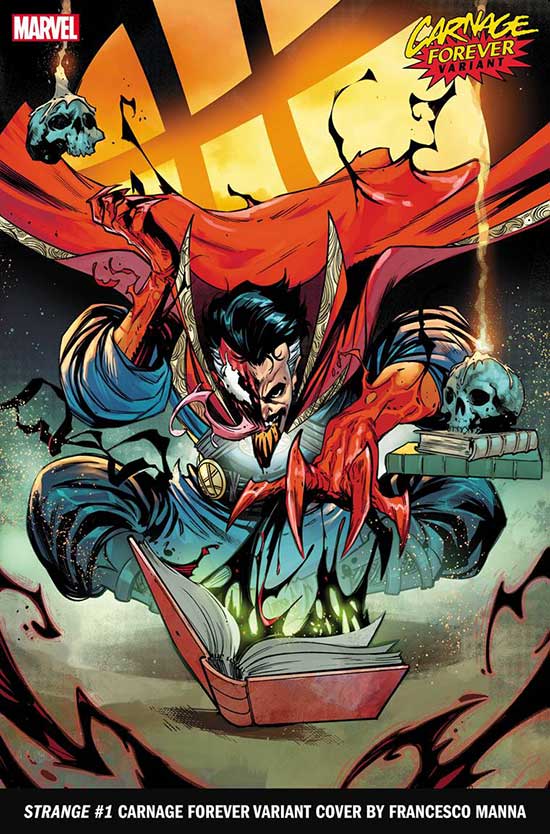 PAY TRIBUTE TO THE MOST TERRIFYING VILLAIN IN THE MARVEL UNIVERSE WITH NEW CARNAGE FOREVER COVERS!
All-star artists celebrate 30 years of Carnage with all-new variant covers this March
Throughout March, Marvel Comics is proud to mark the 30th anniversary of CARNAGE with an all-new series of variant covers! Prepare to scream as your favorite Marvel heroes become new hosts of the Carnage symbiote in brand-new illustrations by all-star artists including Francesco Manna, Dan Panosian, Humberto Ramos, and David Nakayama. These brilliant—and terrifying–new symbiote designs will adorn the covers of Marvel's hottest ongoing comic series.
Check out the first batch now and stay tuned for many more CARNAGE FOREVER VARIANT COVERS to be revealed in the coming weeks! For more information, visit Marvel.com.
On Sale 3/2
AMAZING SPIDER-MAN #91 CARNAGE FOREVER VARIANT COVER by HUMBERTO RAMOS
FANTASTIC FOUR #42 CARNAGE FOREVER VARIANT COVER by MIKE ALLRED
MOON KNIGHT #9 CARNAGE FOREVER VARIANT COVER by DAN PANOSIAN
STRANGE #1 CARNAGE FOREVER VARIANT COVER by FRANCESCO MANNA
X-MEN #9 CARNAGE FOREVER VARIANT COVER by RON LIM
On Sale 3/9
CAPTAIN CARTER #1 CARNAGE FOREVER VARIANT COVER by JEN BARTEL
ETERNALS #10 CARNAGE FOREVER VARIANT COVER by KYLE HOTZ
STRANGE ACADEMY #17 CARNAGE FOREVER VARIANT COVER by PEACH MOMOKO
THOR #23 CARNAGE FOREVER VARIANT COVER by RAHZZAH
On Sale 3/16
AVENGERS #54 CARNAGE FOREVER VARIANT COVER by GREG SMALLWOOD
CAPTAIN AMERICA/IRON MAN #5 CARNAGE FOREVER VARIANT COVER by KENDRIK "kunkka" LIM
GHOST RIDER #2 CARNAGE FOREVER VARIANT COVER by PHILIP TAN
RECKONING WAR: TRIAL OF THE WATCHER #1 CARNAGE FOREVER VARIANT COVER by JAVIER RODRÍGUEZ
On Sale 3/23
AVENGERS FOREVER #4 CARNAGE FOREVER VARIANT COVER by STEPHANIE HANS
IRON MAN #18 CARNAGE FOREVER VARIANT COVER by JEFF JOHNSON
SHANG-CHI #10 CARNAGE FOREVER VARIANT COVER by LEINIL FRANCIS YU
SHE-HULK #3 CARNAGE FOREVER VARIANT COVER by SKAN
On Sale 3/30
HULK #5 CARNAGE FOREVER VARIANT COVER by JONBOY MEYERS
IMMORTAL X-MEN #1 CARNAGE FOREVER VARIANT COVER by TBA
MILES MORALES: SPIDER-MAN #39 CARNAGE FOREVER VARIANT COVER by TBA
SILK #3 CARNAGE FOREVER VARIANT COVER by INHYUK LEE
SILVER SURFER: REBIRTH #3 CARNAGE FOREVER VARIANT COVER by PAOLO SIQUEIRA
SPIDER-WOMAN #21 CARNAGE FOREVER VARIANT COVER by DAVID NAKAYAMA