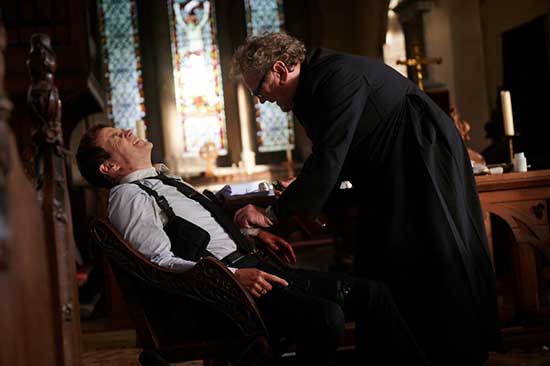 Uncork'd Entertainment has acquired North American rights to writer-director David Beton's action-thriller, CONFESSION. The film, starring Stephen Moyer ("True Blood", "Fortunate Son") and Colm Meany (Seberg, "Star Trek : Deep Space Nine"), had its market premiere at EFM earlier this year. Uncork'd will be releasing the film in on VOD in the U.S and Canada on Jan 25 Shaw, iTunes, Google Play, Microsoft . The film will also play select theaters on Jan 21 in the US.
"CRITICS CALL CONFESSION "A MUST WATCH", A "CAPTIVATING THRILLER" THAT WILL "KEEP THE AUDIENCE GRIPPED"
An intense-thriller played in real time during one fateful night, CONFESSION fixes on a wounded man (Moyer) who takes a priest (Meany) hostage, determined to confess to a past misdemeanor before it's too late.
Written and directed by David Beton (One Last Heist), CONFESSION also stars Clare-Hope Ashitey (Children of Men). Producers are Picture Perfect's Lucinda Rhodes Thakrar and Jeet Thakrar. Signature's Elizabeth Williams is an executive producer.
"CONFESSION is a very suspenseful, thrilling ride with terrific performances from two always-dependable performers, Moyer and Meany," said Keith Leopard, President Uncork'd Entertainment. "It's an incredible film to kick off our exciting 2022 slate".
IN SELECT THEATERS JANUARY 21
ON DEMAND (U.S/CANADA) JANUARY 25