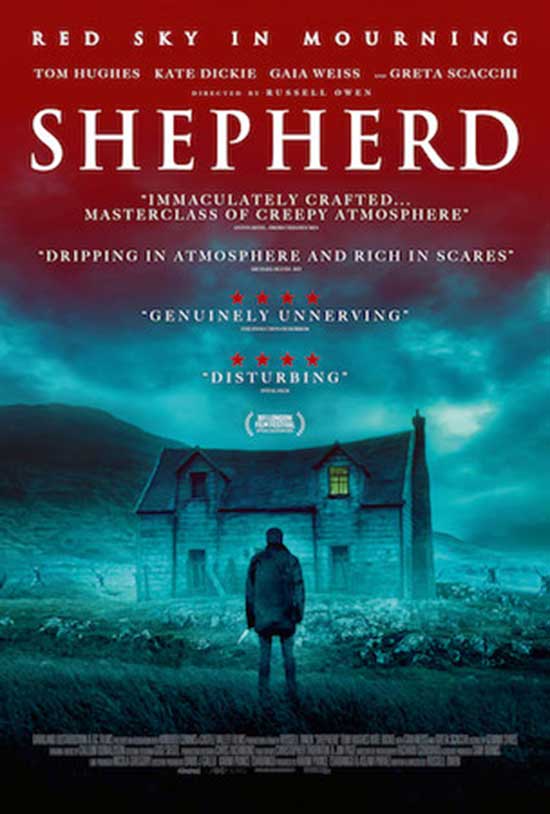 Darkland Distribution have released a new clip from their upcoming British elevated horror, Shepherd.  
Starring Tom Hughes, Kate Dickie, Gaia Weiss & Greta Scacchi
Following a hugely positive response at BFI London Film Festival, film director and writer Russell Owen will be attending Arrow Video FrightFest on 30th October and will be sharing the film's trailer with festival goers.
Shepherd stars Tom Hughes (Red Joan, Victoria), Kate Dickie (Game of Thrones, The Witch), Gaia Weiss (Vikings, Medici) & Greta Scacchi (The Player).
Running from grief after the mysterious death of his wife, Eric Black takes a job as a shepherd. Trapped alone on a majestic weather-beaten island with an ominous secret. One mans spiralling madness meets a vengeful supernatural force. What starts as the perfect wind-swept escape becomes a race to save his sanity and his life.
Distributor: Parkland Entertainment / Darkland Distribution
Short Synopsis: When a deadly secret rots the mind of a grieving widower, the decision to work alone on a deserted island morphs into a terrifying race to save his sanity and his life.
Writer/Director: Russell Owen
Cast: Tom Hughes, Kate Dickie, Gaia Weiss & Greta Scacchi
Producers – Karim Prince Tshibangu, Aslam Parvez, GC Films
Associate Producer – Sam Orams/Kindred Comms
Rating: 15