Ahead of the virtual Cannes Pre-Screening market, arthouse genre outfit Yellow Veil Pictures have added worldwide sales rights to HELLBENDER from directors Toby Poser, Zelda Adams, and John Adams, which is set to world premiere at the upcoming Fantasia International Film Festival.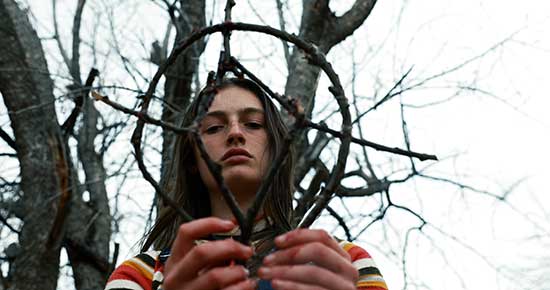 The film follows 16-year-old Izzy (Zelda Adams), who leads an isolated life on a lonely mountaintop due to a rare sickness. Questioning her illness and starving for companionship, Izzy sneaks down the mountain where she befriends the brazen older girl Amber (Lulu Adams). Just as Izzy finally begins to feel happiness, a drinking game involving a live worm unleashes a new kind of insatiable hunger within her. Confused and scared, Izzy appeals to her mother for answers but the family's secrets are as old and dark as the bloodline from which they're born.
Justin Timms, Yellow Veil Pictures Co-Founder, said, "Hellbender is unlike anything you've ever seen and we're absolutely thrilled to team with the mad genius filmmaking family behind this one, and help find its audience around the world."
HELLBENDER marks the sixth feature under the Adams Family's Wonder Wheel Productions banner, following their 2019 hit THE DEEPER YOU DIG. For each film they've employed the same DIY ethic, and as a collective team write, direct, produce, shoot, edit, act, and compose.
In a joint statement the Adams family said "'Yellow Veil embraces the creative energy and vision of our family and new film, Hellbender. We've admired the tone and boldness of YVP's collection from the get-go, and the three of us are thrilled to be teaming up with them."
The movie bolsters Yellow Veil Pictures' market slate which includes the SXSW hit animated Midnighter THE SPINE OF NIGHT, George A. Romero's "lost" film THE AMUSEMENT PARK, the Edgar Allan Poe inspired feature THE BLOODHOUND, backwoods slasher HONEYDEW, and Jordan Graham's demonic chiller SATOR.