Presents
"DARK WOODS"
A Topic Original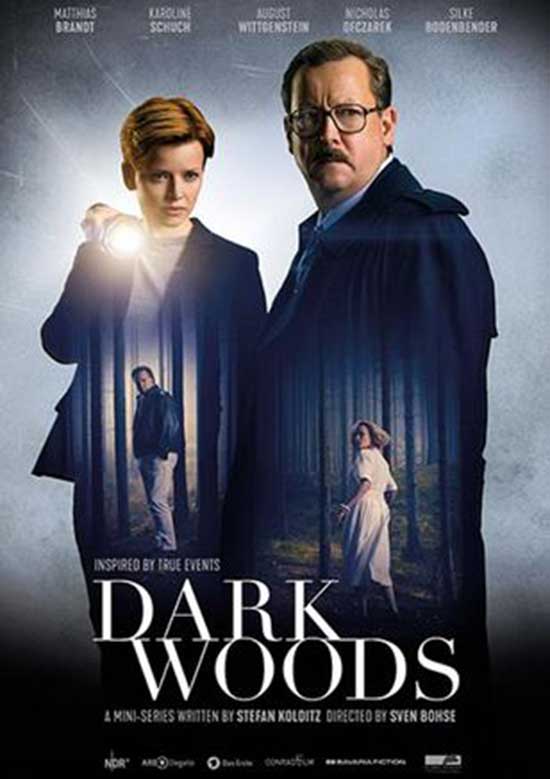 Directed by: Sven Bohse ("Ku'damm 56")
Written by: Stefan Kolditz
Starring: Matthias Brandt ("Babylon Berlin"), Karoline Schuch, August Wittgenstein ("Das Boot"), Silke Bodenbender, Nicholas Ofczarek ("Pagan Peak"), Jenny Schily ("Tatort"), Hildegard Schmahl ("We Children from Bahnhof Zoo"), Hanno Koffler, Anne Werner, Janina Fautz, and Mirco Kreibich
Produced by: Maren Knieling
In the summer of 1989, Barbara Neder, the sister of high-ranking Hamburg police officer Thomas Bethge, disappears from her home without a trace. Shortly before this, two couples had been cruelly murdered in nearby woodlands.  Suspicion quickly falls on artist Hans Lingner, who is living on the edge of the forest and is a gun enthusiast. However, the links between the earlier murder cases, the "Killer Forest" and Barbara's disappearance are not initially picked up by the investigators.  Instead, the police begin to suspect Barbara's husband Robert who was in the process of divorcing his wife. Their daughter Theresa has been hit hard by her mother's disappearance and the suspicions surrounding her father, making her too, believe that her father may be her mother's murderer.
Meanwhile, the missing woman's brother – Head of the Hamburg State Office of Criminal Investigation – Thomas Bethge – faces the most difficult task of his life, because as a Hamburg police officer, he is not permitted to investigate a crime in Lower Saxony where Barbara has disappeared. Neither can he stand idly by. He seeks support from his colleagues Anne Back and Frank Behringer. Bethge's quest for justice continues long after his retirement as he and his team eventually, through painstaking and meticulous research, finally get on the track of a suspected serial killer.
Inspired by real-life-events that took place the late 1980s, this sinister mini-series tells the story about a family tragedy, and of a brother searching for his missing sister for more than 30 years.
6 episodes (45 minutes each) | German | True Crime/Thriller