BLACK WAIL Announce 'Born on Fire' EP – Out April 23
New Jersey rock quintet BLACK WAIL is primed to release their latest studio offering. The band has announced their new EP, 'Born on Fire', which will see an April 23, 2021 release via Rhyme & Reason. The new EP is the band's fourth studio effort since forming in 2014, and is preceded by their late-2017 offering 'Chromium Homes'. Fans eager to get a taste of the upcoming record can check out the lead single, "See Conspiracy", which is out now on digital and streaming platforms found here:
https://orcd.co/seeconspiracy
.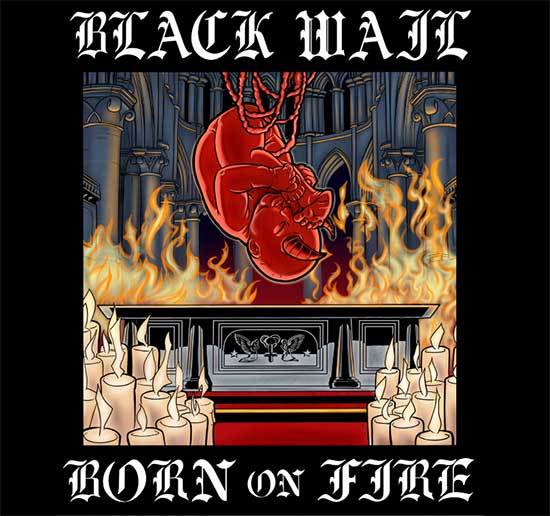 Speaking on the new single, the band offers a direct and to-the-point summation, stating: "'See Conspiracy' is a song about people who believe crazy conspiracy theories and wind up doing crazy things because of it."
While New Jersey quintet Black Wail's latest EP, 'Born on Fire' (Rhyme & Reason), isn't a concept record, there are some threads running between its songs that you'd be forgiven for thinking were a direct response to the past year. The lead single, "See Conspiracy" was written before the Qanon movement reached mass acceptance, and long before its believers wound up in Congress. Singer/guitarist Michael Tarlazzi points back to the election of our last President as the genesis. "When he got elected, I was dumbfounded that that could even possibly happen," he says. "I thought it was a joke, because I figured everyone knew that the guy was a clown. Then he's spouting all these theories about 'fake news' and that there's a liberal plot to get everybody. Meanwhile, there are real-life events happening, like school shootings with assault rifles that kids easily got because they're so easily available in America and any attempt at regulation becomes 'they're taking our guns away.'"
Black Wail formed in Jersey City in early 2014 when Tarlazzi, then best known as a drummer or guitarist, decided to front his own band to draw on his influences of metal, punk, psych, stoner, and classic rock; playing guitar as well as handling vocals for the first time. After recruiting Susan Lutin on bass and Bram Teitelman on keys, the lineup solidified with the addition of guitarist Ed Charreun and drummer Felipe Torres, who also play in the sludge/noise trio Twin God. Born on Fire, the quintet's fourth EP, follows 2017's Chromium Homes, and was recorded by Grammy-winning producer John Seymour (Bouncing Souls), who co-produced the EP with the band.
BLACK WAIL is:
Michael Tarlazzi – Guitar, Vocals
Susan Lutin – Bass
Ed Charreun – Guitar
Felipe Torres – Drums
Bram Teitelman – Keys