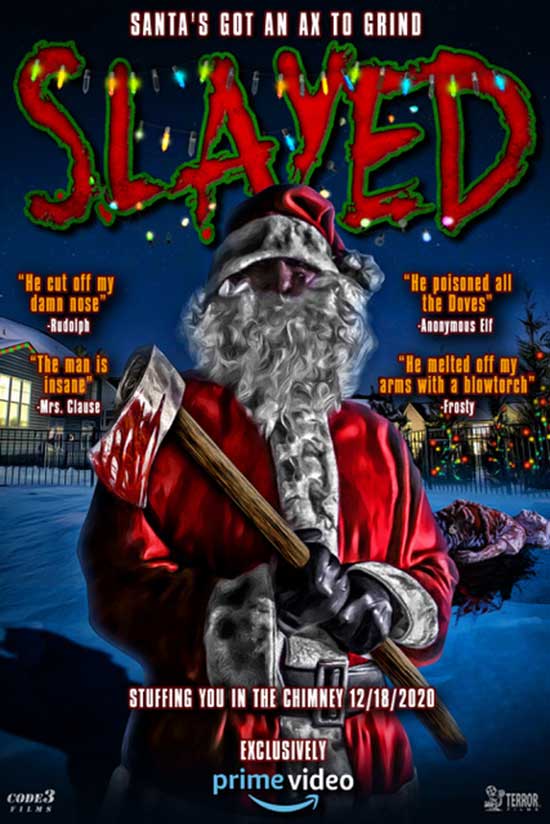 TERROR FILMS is set to release Jim Klock's Christmas themed horror film SLAYED, just in time for the holidays. The Worldwide Digital release will take place this December 18th!
SLAYED has been described as a cross between The Texas Chainsaw Massacre (1974) and Silent Night, Deadly Night (1984). The film is set five years after a Christmas Eve massacre in Harris County, AZ, when a crazed killer returns to a condemned water-treatment plant to terrorize and kill again. Only this time, the lone survivor from that tragic night is waiting to make this Santa-clad monster pay for what he did.
Klock, who recently starred in Secrets in the Woods, centrally stars in the film. As well,  his co-director Mike Capozzi (Emmy Award Winning "Dark/Web") also stars, along with: Kyra Kennedy (Red Letters) and Coél Mahal ("Don't Ask Nancy").
SLAYED brings several more filmmakers together. The film is produced by Klock and Darrell Martinelli, both of Code 3 Films. Executive producers include: Philip Snow (The Exceptionals), Danny Draven (Reel Evil) and TERROR FILM'S own Joe Dain. Finally, co-producers consist of: Emily Adams (Red Letters) Marcie Klock, and David Decatur. All of these cast and crew members have come together to bring the globe one of this year's greatest Christmas horror stories.
TERROR FILMS is set to release the film exclusively on Amazon Prime, Friday December 18th. In advance of the release, the genre distributor is sharing the official trailer, poster and several stills here, for fans of Christmas themed horror.
To learn more about Terror Films, visit: https://www.terrorfilms.net/