CAV and Massacre Video's October 2020 Release of NIGHT TERROR – Paul Howard and Michael Weaver's blood-splattered anthology of bad dreams, for the first time on DVD!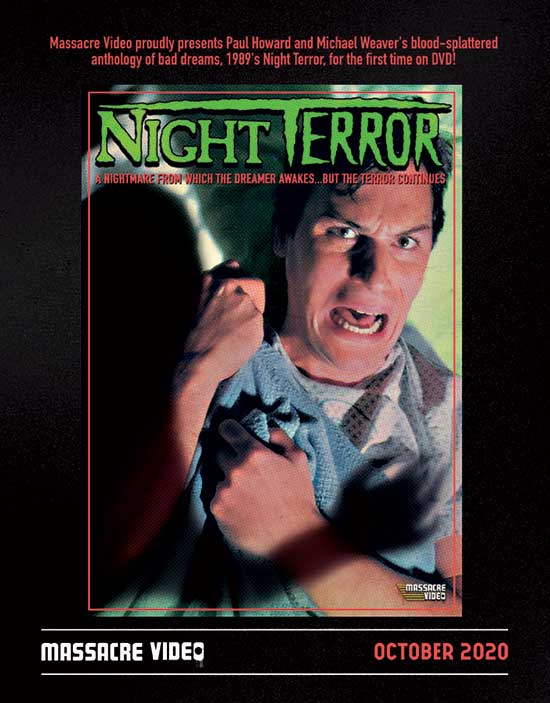 Night Terror
1 DVD
Label:  Massacre Video
Preorder:  9/15/20    Release:  10/13/20
MSRP:  $19.99
UPC:  663390003862
Catalog #:  MV-033
Genre:  Horror
MPAA Rating:  NR
Color, 81 minutes, in English
Region: 0
Full Screen 1.33:1
PCM Stereo
Production year:  1989 in the USA
Director:  Paul Howard, Michael Weaver
Cast:  Guy Ecker, Monique Swanson, Jeff Keel
A confused and frightened young man struggles to discern dream from reality as he stumbles between the confines of a mental institution and a trilogy of menacing visions! Shreik as master cocksman Lothario's luck runs out when he catfishes a co-worker's date. Gasp as a greedy investor reaps the whirlwind when he attempts to turn a beloved amusement park into a shopping mall. Stare in bewilderment as a trio of delinquent drug dealers enrages the unlikely guardians of a mom and pop toy shop!
Massacre Video proudly presents Paul Howard and Michael Weaver's blood-splattered, shot on 16mm and edited on tape, an anthology of bad dreams. Newly transferred from its original video master, 1989's NIGHT TERROR makes its debut on DVD for the first time worldwide.
SPECIAL FEATURES:
Newly Transferred from the Original Video Master.
Retro VHS Inspire VHS Cover Reversible Cover.
English Captions.
Trailers for Other Massacre Video Releases.