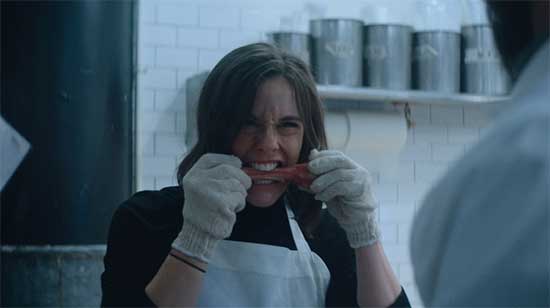 First Look Media's streaming service, announced today they have acquired North American streaming rights to MEATS, directed by prolific actor Ashley Williams (How I Met Your Mother, SOMETHING BORROWED) and have acquired a first look opportunity. Making her directorial debut, Williams' MEATS centers on a pregnant vegan struggling with her newfound craving for meat. The short film recently had its world premiere at the 2020 Sundance Film Festival where it garnered critical praise.
Inspired in part by various writers and thinkers about food ethics, including Michael Pollan, Camas Davis, and Jonathan Safran Foer, the film stars Williams along with real-life master butcher Giancarlo Sbarbaro and is produced by Neal Dodson, known for such films as J.C. Chandor's MARGIN CALL, ALL IS LOST, A MOST VIOLENT YEAR, TRIPLE FRONTIER. Williams, who is forming projects for Hallmark and Lifetime, as well as a TV series based on Camas Davis' memoir "Killing It: An Education" in development with Pam Fryman, also received the Creative Coalition Spotlight Award at Sundance last week, along with filmmaker Julie Taymor and actors Rachel Brosnahan and Jim Gaffigan.
"There were many incredible shorts that premiered at Sundance this year and MEATS was such a brilliantly unique comedic look at human nature vs. choice and sacrifice," said Ryan Chanatry, General Manager of Topic. "We're thrilled to be sharing Ashley's film with Topic's subscribers later this year."
Director Ashley Williams said, "Having just seen audiences view my film at Sundance, I'm so happy that Topic loves the project and will grow the audience for MEATS. I'm flattered and proud."
"The team at Topic is smart and forward-thinking about what stories and storytellers they elevate. We're looking forward to them distributing MEATS and to collaborating on future projects with them as well," Producer Neal Dodson added.
The deal was negotiated by Topic GM Ryan Chanatry and Acquisitions Lead Dea Perez with CounterNarrative Films' Neal Dodson on behalf of the filmmakers.
Most recently Topic has teamed up with ITV to release Shane Meadows' (THIS IS ENGLAND) newest series The Virtues, starring Stephen Graham (THE IRISHMAN), in North America in April, available only on Topic's streaming service.