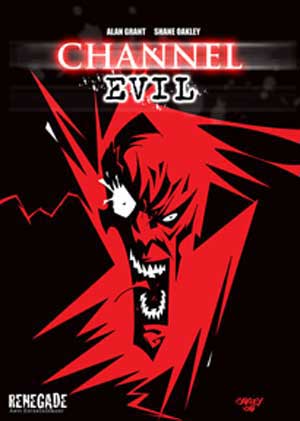 CHANNEL EVIL – ISSUE#1 COMIC)
Written by: Alan Grant
Artist: Shane Oakley
Letters: Jamie Grant
Ink Assist: Suzanne O'Brien
Editor: Alexander Finbow
From: Beserker Comics
Publication Date: 2009
Format: Full Color – 24 pages
Price: $3.99
"A slick and sleazy chat show host gets more than he bargained for when he channels an ancient source of evil, unleashing terror and carnage upon the world."
I really like the idea of this book. A scum bag tv show host gets what he has coming to him without knowing it. This issue hits on all levels and is worth checking out.
Artwork: 4.0 out of 5
At times I can be a big fan of Oakley's style and then sometimes I can't follow his work in the panels. For the most part, lets say 90% of this issue, his works shines! Just outstanding and gore-geous looking work. At times though it did seem to jump to the more head scratching side but overall it works nicely.
Story: 4.0 out of 5
The story is very funny and you honestly want something to happen to the main character. Great build up on who he is and how he views others. Towards the beginning of the issue I was waiting for something to happen but soon enough it did. A cool cliffhanger ending too making me want to continue on.
Dying Breath: 4.0 out of 5
I just like the concept presented here and I can't wait to see where this story goes. Of course saying that I hope issue #2 is on the way soon. You get some great artwork by Oakley and a cool story idea by Grant. So last I checked that is two winning combination's and you still don't own it, why?
If you would like to buy Channel Evil or check out check out what else Berserker Comics is working on go to http://www.thedeadcomic.com/. You can also get the issue through Diamond.
Check out other books at: Berserker Comics