Must Watch List of 2018 Independent Horror Movies
It's time to review 2018 and what we saw and more important, maybe what we didn't see.  I would say overall the it was pretty solid year for the horror industry.  Of course, we all know about those high profile movies that made it into the theater system.  It was the year that John Carpenter reunited with Jamie Lee Curtis and returned to the slasher movie that started it all, 'Halloween'.   The Conjuring universe continued to grow with the release of 'The Nun'. Dario Argento's original 1977 horror masterpiece, 'Suspiria' was given the old reboot.   The horror community was also a buzz about 'A Quiet Place' directed by John Krasinski.  All of those movies were figgly fine and dandy, but let's talk about some smaller independent films that didn't get the recognition, but are certainly worthy of putting on a 'Must Watch' list.
10. Luciferina
Argentinean Gonzalo Calzada directs a visually explosive film where religion, innocence, repressed sexuality and evil spectacularly collide. Natalia is a 19-year-old novice who reluctantly returns home to say goodbye to her dying father. But when she meets up with her sister and her friends, she decides instead to travel the jungle in search of mystical plant. There, instead of pleasure, they find a world of Black Masses, strange pregnancies, bloody deaths and for the nun herself, a sexually violent clash with the Devil himself.
9. Close Calls
Morgan, a troubled, drug-addled teen, must deal with her crazy grandma and a psycho caller when her father leaves her home alone. As the calls keep coming in, a paranoid Morgan is forced to face some of her worst fears and inner demons when she believes everyone she knows is either plotting against her – or trying to kill her.
8. Summer of '84
After suspecting that their police officer neighbor is a serial killer, a group of teenage friends spend their summer spying on him and gathering evidence, but as they get closer to discovering the truth, things get dangerous.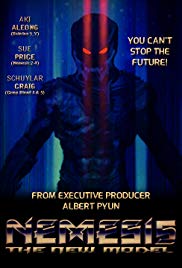 7. Nemesis 5
It is the year 2077 and terrorist organization known as The Red Army Hammerheads now dominate the Earth. The fate of humanity now rests in the hands of The New Model, Ari Frost. Trained under the wing of Alex Rain, she must form an army of Cyborg Humans to take down the regime and regain control. After all, 86.5% is still considered human.
6. Double Date
A man can't speak to ladies. His friend makes things happen but with 2 man-killing sisters looking for a virgin man to sacrifice to bring daddy back from the dead.
5. Garden Party Massacre
A gathering of friends goes awry when an uninvited guest appears. With a pickax. And an attitude.
4. Midnighters
Their marriage was already in trouble. Then came the accident and bad decisions. Their troubles just got so much worse.
3. Trauma
A shocking, brutal tale that blends the dark history of Chile's recent past (the violent, repressive military dictatorship of Pinochet) with the seemingly modern and progressive Chile of today. The two worlds clash when a group of women venture to the idyllic countryside for a weekend of fun. But their outing soon turns nightmarish a man, himself a victim of torture in the hands of the government, unleashes his pent-up rage on them. The women must fight for their very lives in this film of shocking violence and sexual assault. Never gratuitous, director Rojas exposes the horrors of politics with the evil that can lie within the damaged soul of man.
2. Hostile
Juliette, a lone survivor of an apocalyptic era, fights to survive against hunger, thirst, a broken leg and strange, disturbing creatures that only come out at nighttime.
1. Tonight She Comes
After a girl goes missing, two of her friends and a mysterious set of strangers find themselves drawn to the cabin in the woods where she disappeared. They will laugh, they will drink, they will kiss, they will make love, and THEY MUST ALL DIE.