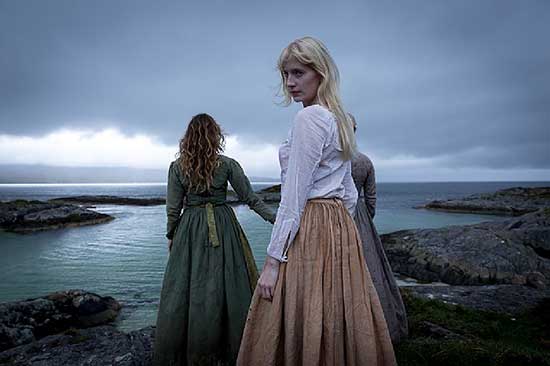 THE ISLE
OPENING IN THEATRES ON FEBRUARY 8
**WINNER – Jury Prize London Independent Film Festival 2018**
**WINNER – Jury Prize Best Cinematography – Manchester International Film Festival 2018**
Siren song performed by Faroese singer Eivør
Brainstorm Media will release the Victorian supernatural thriller THE ISLE on February 8. Directed and co-written by British filmmaker Matthew Butler Hart (TWO DOWN), the film stars Olivier Award-winning, Tony-nominated actor Conleth Hill (HBO's "The Game of Thrones"), Alex Hall (SUBURBICAN, BBC's "The Miniaturist"), Fisaya Akinade (BAFTA-nominated GIRL WITH ALL THE GIFTS with Glenn Close and Gemma Arterton), THE ISLE co-writer and producer, Tori Butler Hart (MISS IN HER TEENS), Alix Wilton Regan (THE WIFE) and Graham Butler (Showtime's "Penny Dreadful").
Based loosely on Scottish ghostly folklore with inspiration from Greek sirens, the tale is set in 1846 on a remote island off the west coast of Scotland, where three survivors from a mysterious sinking of their merchant ship find themselves stranded on a small misty isle. The isle's four sole secretive residents, an old harbor man, a farmer, his niece and a young mad woman, are anything but welcoming and reluctant to aid the sailors back to the mainland. The promise of a boat never materializes leading one of the sailors to question why people had abandoned the island. Through his investigation he discovers that every year around the same date a tragedy at sea would occur and young men from the island would perish. When his two shipmates meet with fatal accidents, the myth of a ghostly siren haunting the island leads him to try and uncover the truth.
Running Time:96 Minutes
Language: English
Rating: Unrated
Directed by Matthew Butler Hart. Co-written by Matthew Butler Hart and Tori Butler Hart. Starring Conleth Hill, Alex Hassell, Fisayo Akinade, Tori Butler Hart, Alix Wilton Regan and Graham Butler. Cinematography by Pete Wallington. Produced by Matthew Butler-Hart, Tori Butler-Hart and Gareth Jones. Ian McKellen serves as associate producer. A Brainstorm Media Release.