From Timeless Classics To Cutting-Edge Cult Favorites, DUSTx Is The Ultimate Destination For Sci-Fi Content
Bill & Ted's Excellent Adventure, Paycheck, "Mystery Science Theater 3000", A Scanner Darkly And "Beyond Westworld" Among DUSTx Slate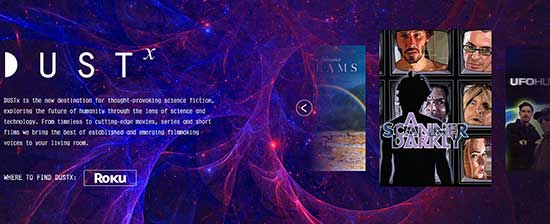 Gunpowder & Sky, the global content studio, announced today that it has launched DUSTx, a new destination for mind-expanding science fiction that explores the future of humanity through the lens of science and technology. DUSTx will be available on all Roku devices starting August 18, 2018.
Exploring the edge of possible – from the known, the legends, the titles everyone loves, to the new voices of tomorrow – DUSTx kicks off with more than 20 films, 30 series and 200 of its best short films, including: Bill & Ted's Excellent Adventure, the 1989 sci-fi comedy starring Keanu Reeves; Paycheck, the 2003 sci-fi action film based on Philip K. Dick's short story, starring Ben Affleck; A Scanner Darkly, the 2006 animated sci-fi thriller directed by Richard Linklater, based on Philip K. Dick's novel of the same name and starring Reeves, Robert Downey, Jr., Woody Harrelson and Winona Ryder; "Beyond Westworld", the 1980 television series based on the Michael Crichton helmed film Westworld; and "Mystery Science Theater 3000 (MST3K)", the 1988 cult-favorite comedy series created by Joel Hodgson, and a slate of DUst short films including Bad Peter, starring Frankie Shaw (Showtime's SMILF), Rise, starring Anton Yelchin (Star Trek, Taken) and Jonah, starring Daniel Kaluuya (Get Out, Black Mirror).
"Since DUST's inception, our mission has been to build a contemporary sci-fi brand. Today, DUST has a thriving community of more than 2M fans, showcasing varying content from up-and-coming creators to masters like George Lucas and Robert Zemeckis. We are also producing and releasing original feature films and TV series under the DUST label," said Floris Bauer, Co-founder and President, Gunpowder & Sky. "Having our own premium channel, and launching DUSTx, marks a natural and significant next step in the evolution of the brand."
This news comes on the heels of DUST's announcement that it has partnered with Lionsgate and the directors of the feature film KIN to create a sci-fi short movie competition called KIN x DUST, as well as the acquisition of Zeek Earl and Chris Caldwell's sci-fi western Prospect, DUST's first feature film which premiered at SXSW to critical acclaim and is set to debut theatrically later this year. Additionally, DUST's sci-fi short, Bad Peter, starring Golden-Globe nominated Frankie Shaw ("SMILF"), was an official selection at this year's Tribeca Film
ABOUT DUSTx
DUSTx is the new destination for thought-provoking science fiction, exploring the future of humanity through the lens of science and technology. From timeless to cutting-edge movies, series and short films we bring the best of established and emerging filmmaking voices to your living room.