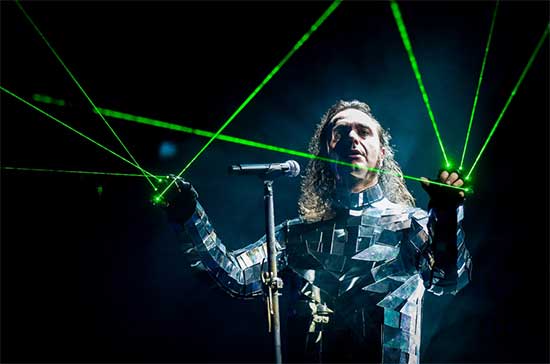 A unique and solemn spell seems to shroud every spot as soon as Portuguese alchemists MOONSPELL enters the stage – and it was a very special evening indeed when the band played an exceptional show at the Campo Pequeno arena in their hometown Lisbon on February 4th, 2017. That inimitable bond between the gothic metal act and 4.000 of their fans in the sold-out venue is pure electricity, captured for all eternity on the massive Live DVD/Blue Ray/3CD package Lisboa Under The Spell which will be released on August 17th via Napalm Records.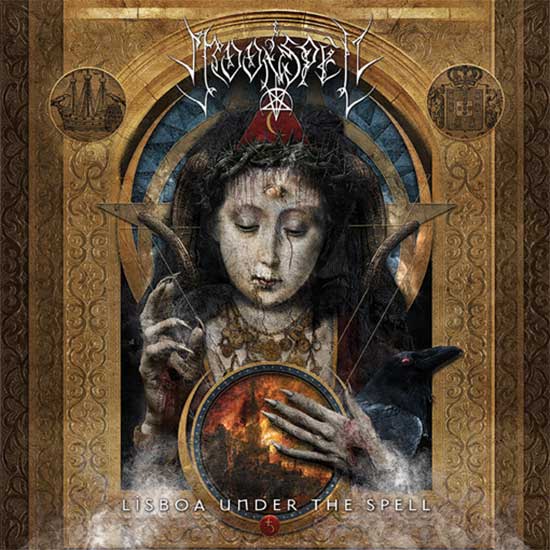 The band on the new live epos:
"We are thrilled to announce the release of our brand new Live DVD/BluRay/3CD, Live album, entitled Lisboa Under the Spell! It was recorded live on our breathtaking capitol city of Lisbon and it's nothing short of an epic trek of more than three action packed hours! We have played Wolfheart, Irreligiosuplus Extinct in full, invited a bunch of guests, summoned our biggest strength to be up to the task, and it feels awesome to unleash a long awaited live release from MOONSPELL. This edition will be full packed with amazing material, bonus CDs from the shows, a in depth documentary about the band, top sound, dramatic flair and a human picture of thousands of Portuguese witches and wolves under the spell. A great document of what we are on and off stage. Don't miss out and visit Lisbon through the eyes of MOONSPELL fans and the genius work of director Victor Castro."
It was definitely time, since MOONSPELL aficionados have been thirsting for a new live release ever since Lusitanian Metal (2008)! Thus, Lisboa Under The Spell is not simply a visual testimony to the success of Portugal`s biggest metal band – it is a celebration of the unbound creativity and pure magic that is MOONSPELL.
Pre-order 
Lisboa Under The Spell HERE!
Track Listing:
I – ROCKUMENTARY– band documentary by Victor Castro
II – WOLFHEART SHOW – full album played live
1. Wolfshade (A Werewolf Masquerade)
2. Love Crimes
3. Of Dream And Drama
4. Lua D'inverno
5. Trebaruna
6. Ataegina
7. Vampiria
8. An Erotic Alchemy
9. Alma Mater
III – IRRELIGIOUS SHOW – full album played live
1. Perverse Almost Religious
2. Opium
3. Awake!
4.  For A Taste Of Eternity
5.  Ruin & Misery
6. A Poisoned Gift
7.  Raven Claws (Feat. Mariangela Demurtas)
8. Mephisto
9. Herr Spiegelmann
10. Fullmoon Madness
IV – EXTINCT SHOW – full album played live
1. All Gone From The Wild (Intro)
2. Breathe (Until We Are No More)
3. Extinct (Feat. Carolina Torres)
4. Medusalem
5. Domina
6. The Last Of Us
7. Malignia
8. Funeral Bloom
9. A Dying Breed
10. The Future Is Dark
V – MAKING OF– show day
VI – GALLERY– live and backstage pics
Lisboa Under The Spell will be available in the following formats:
BD/DVD/3-CD DVDPac (6 pages Digipack, 28 pages booklet, 29 tracks + Rockumentary, 3 full length filmed shows, behind the scenes & making of videos, Gallery)
3LP Gatefold (29 tracks) Black/Gold/Blue Vinyl
LTD Deluxe Fanbox incl.
-BD/DVD/3-CD DVDPac
-Cover Flag
-Lanyard & Pass
-Pendant
-Patch
Touring:
29.06.18 GR – Chania, Chania Rock Festival
13.07.18 DE – Neukirchen-Vluyn, Dong Open Air
03.08.18 CZ – Ostrava, Ostrava Vplamenech
w/ Amorphis, Dark Tranquillity, Omnium Gatherum
07.09.18 US – New York, NY / Gramercy Theater
08.09.18 CA – Montreal / Cafe Campus
09.09.18 CA – Quebec City / Imperial de Quebec
10.09.18 CA – Toronto / Opera House
11.09.18 US – Ft Wayne, IN / Pierre's
12.09.18 US – Detroit, MI / Harpo's
13.09.18 US – Joliet, Il / The Forge
14.09.18 US – Minneapolis, MN / The Cabooze
15.09.18 CA – Winnipeg / Park Theatre
17.09.18 CA – Edmonton / The Starlite Room
18.09.18 CA – Calgary / Dickens
19.09.18 CA – Vancouver / Rickshaw Theater
20.09.18 US – Seattle, WA / El Corazon
22.09.18 US – Berkeley, CA / The UC Theatre
23.09.18 US – Anaheim, CA / City National Grove
24.09.18 US – West Hollywood, CA / Whiskey a Go Go
25.09.18 US – San Diego, CA / Brick By Brick
26.09.18 US – Tempe, AZ / Marquee Theatre
27.09.18 US – Las Vegas, NV / House of Blues
28.09.18 US – Salt Lake City, UT / Liquid joe's
29.09.18 US – Denver, CO / Herman's Hideaway
01.10.18 US – Dallas, TX / Trees
02.10.18 US – San Antonio, TX / Rock Box
03.10.18 US – Houston, TX / Scout Bar
05.10.18 US – Tampa, FL / Orpheum
06.10.18 US – West Palm Beach, FL / Kelsey Theater
07.10.18 US – Atlanta, GA / The Masquerade
09.10.18 US – Louisville, KY / Diamond Pub and Billiards
10.10.18 US – Durham, NC / Motorco
11.10.18 US – Baltimore, MD / Soundstage
12.10.18 US – Philadelphia, PA / The Trocadero
14.10.18 US – Clifton Park, NY / Upstate Concert Hall
Line-up:
Fernando Ribeiro – Vocals
Ricardo Amorim – Guitar
Pedro Paixão – Guitar, Keyboard
Aires Pereira – Drums
Mike Gaspar – Bass
For More Info On MOONSPELL:
www.moonspell.com
www.facebook.com/moonspellband
www.moonspell.rastilho.com
www.napalmrecords.com