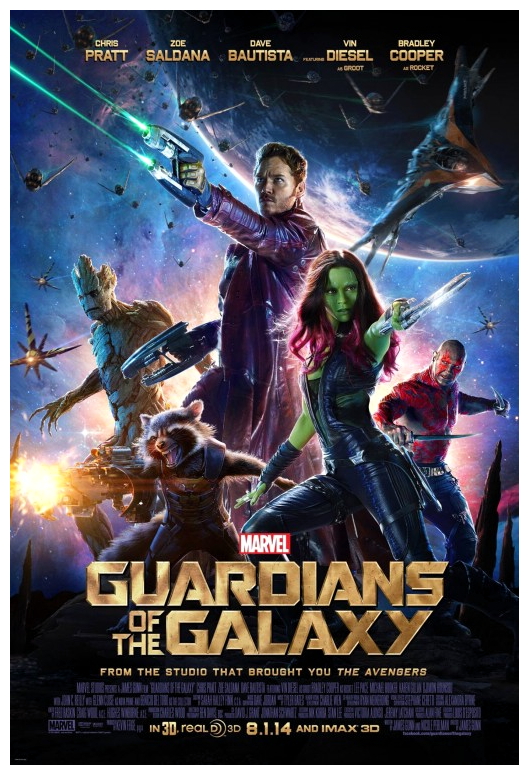 SYNOPSIS:
"Kidnapped by aliens when he was young, Peter Quill now travels the galaxy salvaging anything of value for resale. When he comes across a silver orb however, he gets more than he's bargained for. The orb is highly desired many but by none so powerful as Ronan. When Ronan finally acquires it, it's left to Peter and his newfound friends Gamora, Drax, Groot and Rocket to stop him." (courtesy IMDB)
REVIEW:
Amongst the glut of superhero amalgams we've been treated to over the last decade, Guardians Of The Galaxy (2014) stands out as one of the most anticipated. Instead of drawing together elements from separate franchises (although it does exist in the same 'shared world'), Guardians Of The Galaxy introduces us to an entirely new group of motley action heroes who are both beautifully and hilariously flawed. The humour is expertly wielded in this intergalactic saga from former Troma writer-director James Gunn – Tromeo & Juliet (1996), Slither (2006), Movie 43 (2012) – which follows an Earthling who calls himself Star-Lord as he bands together with a lithe green-skinned assassin, a humanoid tree, a thuggish racoon and a revenge-seeking meat-head to recover a powerful orb. Despite the fact that none of the action takes place on Earth, Gunn has permeated the story with a fantastic seventies soundtrack which anchors the entire project, linked to a mix-tape which was given to Star-Lord by his mother.
Given its subsequent commercial and critical success, it's easy to forget what a risky proposal Guardians Of The Galaxy was. Produced during an era of Hollywood conservatism, it was inspired by fairly obscure and outlandish comic (even when compared to its peers) headlined by a comedy actor with unproven box-office appeal and helmed by a director whose previous films had been edgy, uneven and largely ignored. That Guardians Of The Galaxy went on to become one of the most popular films of the year is testament to Gunn's irreverent, gleeful approach, as well as an underexploited capacity for modern mainstream audiences to respond to idiosyncratic filmmaking. Carving out its own corner of the Marvel Cinematic Universe, separate from the studio's highly synergistic efforts, Gunn has created a lighthearted space adventure that deliberately aspires toward Flash Gordon (1936) and Star Wars (1977) rather than your typical superhero model.
A brand new universe is fun to play with, but the makers of this Marvel Comics blockbuster found a few ways to connect the sprawling macrocosm to its lead character's earthly home. At a very young age, Peter Quill, also known as Star-Lord, was plucked from his home on Earth and flung into the interstellar arena which envelops this adventure. The theft of an all-powerful orb drives the story of the wise-cracking outlaw Star-Lord (Chris Pratt is hilarious as the immature leader of the Guardians), smooth assassin Gamora (Zoe Saldana is appropriately disapproving as an avenging orphan), tree-man Groot (Vin Diesel provides the voice of a humanoid plant with an extremely limited vocabulary, recording all his lines in Russian, Mandarin, Spanish, Portuguese, German and French so that they could use his real voice around the world), revenge-obsessed beefcake Drax (former wrestler Dave Bautista demonstrates impressive comic ability as a warrior who is unable to comprehend metaphors) and a violent self-serving racoon named Rocket – Bradley Cooper is one of the highest-paid people in the industry, paid more for voicing Rocket in this movie, than for starring in The Hangover (2009) and Silver Linings Playbook (2012) combined.
Following this team of hastily-assembled mercenaries, Gunn makes much from the characters' chemistry. The film begins with Quill stealing the orb but is attacked by Korath (Djimon Hounsou: "I have a son who loves superheroes from Spider-Man to Iron Man to Batman. One day he looks at me and says 'Dad, I want to be light-skinned so I could be Spider-Man. Spider-Man has light skin.' That was sort of a shock."), a subordinate to the fanatical Ronan The Accuser (Lee Pace). Although Quill escapes with the orb, his former boss Yondu (Michael Rooker) issues a bounty for his capture, while Ronan sends the assassin Gamora after the orb. Gamora ambushes Quill on the planet Xandar and attempts to steal the orb. A fight ensues which also involves a pair of bounty hunters – a genetically modified raccoon named Rocket, and the tree-like humanoid Groot. The four are captured and sent to a prison moon where they meet a powerful inmate named Drax. Drax wants to kill Gamora because of her relationship with Ronan, who killed his family. Quill convinces Drax that Gamora can bring Ronan to him, and Gamora reveals that she has decided to betray Ronan.
Quill, Rocket, Groot, Drax and Gamora escape the prison in Quill's spacecraft, the Milano (named after Quill's childhood crush Alyssa Milano), and flee to a remote criminal outpost called Knowhere, where they meet the collector Taneleer Tivan (Benicio del Toro), who opens the orb to reveal an Infinity Stone, an artefact of immeasurable power. Hunted across the galaxy by Ronan and Gamora's adoptive sister Nebula (former Doctor Who companion Karen Gillan), Quill and his group of misfits need to learn how to get along with each other before they can become the so-called Guardians Of The Galaxy. There were no deliberate antecedent templates on which the filmmakers might base their designs for the locations, as they are as varied as the film's characters. Some might have found it overwhelming, but property master Barry Gibbs – veteran of Captain America (2011), Thor The Dark World (2013), Avengers Age Of Ultron (2015) and Doctor Strange (2016) – was pumped for the challenge which presented its own set of conceptual design issues when it came to nutting out the practicalities of weapons, costumes, technologies and sets.
"It was very different to any of the previous movies in that it was of no known galaxy, nor was it earthbound, so there's no link with reality. We had to try and create things that don't exist." One of the most intricately designed items was the small but super-powerful orb, which is later revealed to be one of the Infinity Stones featured in Avengers: Infinity Wars (2018). The process for modelling and casting the orb was multi-layered, not unlike the item itself: "The original design for the orb was created by a Mandelbrot process, which effectually self-designs (Polish-born mathematician Benoit Mandelbrot was the first to recognise the naturally occurring fractals seen in organic geometric phenomena). As soon as you try to do this in the real world, you can't manufacture it, there's no machine that can perform these functions. The initial step was to create a 3-D print of it, which gave us the outside shell and the two inner shells. Once we got that back, we could mould and cast those items in a more appropriate material. Then we try to produce something that we could actually work with."
Aluminium, silver and bronze were all manipulated and meticulously etched by jewellers to come up with the final beautiful object. The scene where Peter drops the orb during the Collector scene was not scripted. Chris Pratt accidentally drops it during filming but stayed in character, so the blooper was kept in the final edit. One particular set which the crew got to decorate with all manner of imaginative gewgaws was the Collector's Archive, positively dripping with strange artefacts from across the galaxy, including Cosmo, a telepathic dog from the early Soviet space missions. "Hopefully people will pick up that we've created things from other Marvel worlds, so there are Dark Elves and other elements in there." The archive is also the location for the post-credits sequence (a staple of the Marvel movies) which features an unexpected appearance from Howard The Duck (voiced by Seth Green). One important element that ties the storyline to Earth, however, is the string of seventies hit songs featured on the film's soundtrack. It's all connected to a chief story marker – Quill owns a cassette tape which has special meaning to him.
Director James Gunn: "He received Awesome Mix #1 from his mother before she died. She made it for him. It was of songs that she loved, all songs from the 1970s, and that's the only thing he has left of his mother, and that's the only thing he has left of his home on Earth. He uses that as a connection to his past, and to the sadness that he feels having left all that, and lost all that. At the same time, it also works for the audience, as being the thing that connects this outlandish universe to something that's very us, and very modern, and very current. And it's something that separates our film from other space adventure movies, because it's very much in our own time that this film is happening. The music plays a very important part in bringing us back to what we all know and are familiar with. The music is one of those touchstones we have to remind us that Quill is a real person from planet Earth who's just like you and me, except that he's in this big outer space adventure." You'll hear classics like Hooked On A Feeling by Blue Swede, Moon-Age Daydream by David Bowie, Cherry Bomb by The Runaways, The Pina Colada Song by Rupert Holmes, Ain't No Mountain High Enough by Tammi Terrell, and I Want You Back by the Jackson 5, among others.
The soundtrack album reached number one on the US Billboard charts, the first film soundtrack ever to do so without any original music. It was also nominated for the 2015 Grammy Award for Best Soundtrack. Gunn also took the step of playing certain tracks, as well as original pieces by score composer Tyler Bates, on set. Lead actor Chris Pratt in particular found this extremely beneficial: "From the point of view of an actor, having the music on standby and understanding what's going to be playing while you perform is really helpful. It takes the pressure off and allows you to fit in, and be yourself, and be present in the moment." While the film concludes with a computer-generated aerial battle of the sort that seems to be obligatory in contemporary blockbusters, Gunn relies on humorous group bickering rather than dour action – the villain Ronan is ultimately fought with an attempt at a dance-off, and the film is all the better for it. At this point I'll wish you good evening, promising to see you again next week for more cinematic smegma than you can shake a schlock at for…Horror News! Toodles!
Guardians Of The Galaxy (2014)