MONSTERELLA GETS SECONDS:
an action/adventure/horror/sci-fi anthology inspired by the classic "Vampirella" and "2000 AD" magazines of the 1970's by Canadian publisher Hangman Comics.
March 1, 2018. Vancouver Island, Canada.
Monsterella revolves around the continuing adventures of Montrossa Rella, AKA "Monsterella", the warden of an intergalactic prison planet, where the galaxy's worst of the worst monsters are
imprisoned and isolated from the rest of the universe. But her adventures are just one chapter of the book. In the style of the classic Vampirella magazines, Monsterella goes on to introduce other astonishing tales told and illustrated by a creepy collection of Canadian talents that will be sure to chill and thrill you cover to cover!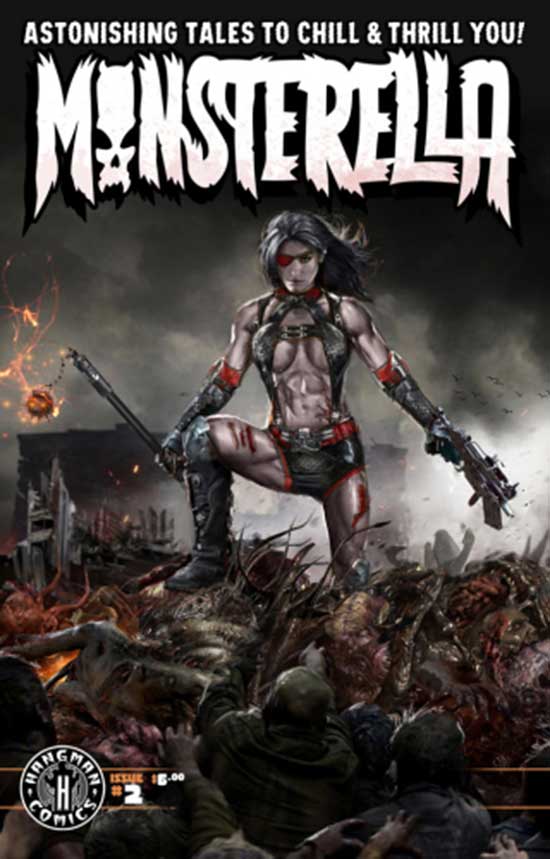 This spooktacular second issue features cover art by John Gallagher, film industry visual artist for "The Flash" and "Supergirl", as well as a centerfold poster by Monsterella creator Nevin Arnold.  Here's a look at what you'll find in the pages of this sinister sequel:
MONSTERELLA: INTO THE BELLY OF THE BEAST by Nevin ArnoldMonsterella, Zorgo and their shipwrecked human counterparts venture into the deadly underbelly of the planet Doomru in their journey to restore balance and settle the score with the criminal scum that overthrew Monsterella as warden supreme.
GRAELIN : THE DEVIL'S DUE by Dan MacKinnonAfter barely escaping the Necromancer's dungeon, Graelin finds herself in trouble again. On the run in a world full of monsters and magic, she'll need more than luck to get her out of this one.
THE LAST WOMAN ON EARTH by Matt Smith & Lawrence DenvirIn this dark tale, we follow the lone survivor of a post-apocalyptic Victoria, BC. overrun with mutated beasts as she struggles to maintain her humanity.
THE BOOK OF EMMA : CHAPTER 1 by Julien PilonNightmares are just figments of our imaginations. That's what we all tell ourselves…But what if every dark, terrible thing that our minds have ever conjured up became real? What if they could be turned against us? Who would save us? One unsuspecting girl is about to find out!

A Monsterellla kickstarter will launch March 7th, 2018 at 7pm (Pacific Time) to raise the funds necessary to get the book into print. The first 13 backers wil receive a free 4×6 original drawing! Many amazing rewards will be available, including digital and print copies, deluxe versions of the book, signed and numbered screen printed art prints, t-shirts, original art, and even unique opportunities for backers to be immortalized in the book itself !
Starting March 7th, you can do a kickstarter search for "Monsterella #2 Comic Book Anthology", or follow this link: www.kickstarter.com/projects/1549968416/1084976295?ref=2ctt69&token=d11ef9fd
Pending the success of the kickstarter, the book is set for a May 2018 release.
www.facebook.com/HangmanComics
www.monsterella.cawww.hangmancomics.com