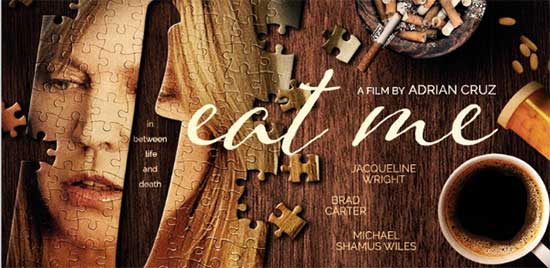 Today we are releasing the trailer, poster and stills for the wild horror/thriller EAT ME, opening in limited theaters March 2nd and hitting VOD on March 6th via Blue Fox Entertainment.
Eat Me is acclaimed playwright Jacqueline Wright's big screen adaptation of her award-winning play of the same name, directed by Adrian A. Cruz (co-creator SyFy's "Ascension").
Wright also stars alongside Brad Carter (True Detective, Ascension) and Michael Samus Wiles (Breaking Bad, FIGHT CLUB) in this wild film that takes place over the course of one torturous night, after woman in the process of committing suicide by swallowing handfuls of pills is woken up and "saved" by two violent home intruders.