RUTHLESS PEOPLE MEETS FARGO IN SPENT, IN THEATERS AND ON DEMAND DECEMBER 15
In theaters this December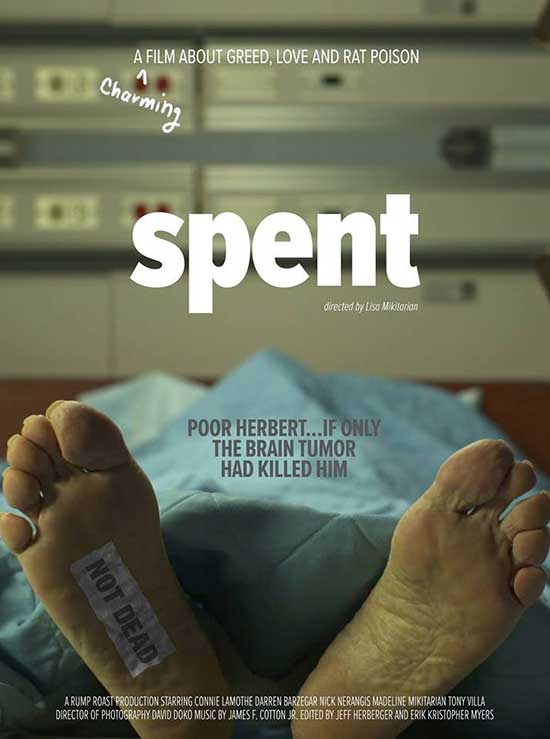 SPENT, the award-winning new dark comedy from writer-director Lisa Mikitarian, hits theaters and VOD December 15 from Indie Rights. Winner Best Comedy at the American Filmatic Arts Awards, SPENT is a tale of greed, love, and most of all…rat poison.
Ruthless People meets Fargo in a delicious homage to '40s dark comedy about a wife and son that live it up while their miser-rat of a husband/father lies in a hospital bed–death by brain tumor imminent. It's all fun and games until he experiences a miraculous 4th of July recovery.
SPENT, featuring "a great story with good direction melded with the right cast and crew"*, opens December 15 in LA theaters and on VOD.
http://smashortrashindiefilmmaking.com
FILM INFO :
Studio:  Indie Rights
Director:  Lisa Mikitarian
Cast :  Sally Anderson, Darren Barzegar, Erin Harth, Sonya Kalian, Connie Lamothe, Janna Livingston, Nataly Martin, Joe Mayes, Nathan McDonald, Madeline Mikitarian, Nick Nerangis, Hannah Overholtzer, Anna Grace Padgett, Tony Villa