FILMRISE RELEASES THRILLER "DEAD AWAKE" IN THEATERS AND ON DEMAND MAY 12
 NEWEST FILM FROM THE CREATOR OF THE ICONIC FINAL DESTINATION FRANCHISE WILL OPEN IN SELECT CITIES AND ON DIGITAL AND CABLE VOD 5/12/2017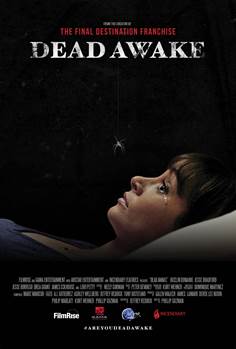 FilmRise is thrilled to announce that DEAD AWAKE opens in theaters and On Demand on Friday, May 12th, 2017.
Directed by Phillip Guzman, DEAD AWAKE follows a straight-laced social worker who finds herself plunged into a world of supernatural terror while investigating a series of mysterious deaths. Each victim suffered from a chilling condition known as sleep paralysis, a nightmarish assault on the senses that immobilizes its victims as they dream. As a terrifying entity begins to haunt Kate's friends and loved ones, she must fight to stay awake to stop the nightmare she's unleashed.
DEAD AWAKE was written by Jeffrey Reddick, creator of the iconic FINAL DESTINATION franchise.