ASIA SHOCK: HORROR AND DARK CINEMA FROM JAPAN, KOREA, HONG KONG, AND THAILAND (PAPERBACK)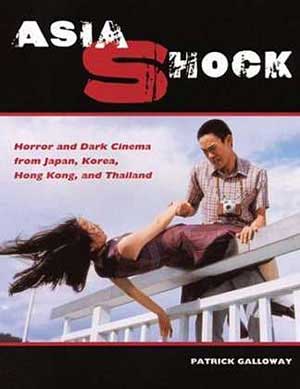 Written by Patrick Galloway
Published by Stone Bridge Press
Publication Date: 2006
Format: Black /White – 211 pages
Price: $19.95
There's one thing that author Patrick Galloway knows alot about, and that's asian films. The book "Asian Shock" is only one of many publications he has authored on the subject including Stray Dogs & Lone Wolves: The Samurai Film Handbook (Paperback), a pretty active asian film blog and a new edition coming out called "Warring Clans, Flashing Blades: A Samurai Film Companion". In essence, Pat has spent alot of time with the asian film culture in more viewing's than most can fit in a lifetime. Evidence of this is found in the book Asia Shock that's focused more on the horror films, controversial and dark side of the asian film library.
As you may have noticed Horrornews.net takes great interest in this subject and has devoted an entire section to this focus. You'll also find an interview with Pat himself.
Moving forward, this in my opinion is one of the great essential asian film lover books to be published that deals with the asian horror culture. We are described , introduced and given overviews on several hand picked titles per way of Pat's insight. As he explains in the books preface, the titles were handpicked for specific purposes pertaining to the authoring of this book based on tastes, availability and story value. For anyone who has researched into asian horror cinema, you most certainly found a very wide and lengthy history of titles. Many of which are hard to obtain. This was a concern of Pats, so he chose titles that fit all his requirements that readers could obtain as well. If you are stumped he has provided a number of contact resources to obtain films discussed in the book.
With any culture so diverse and historical you can't really jump in head first with out some sort of base to reference back to. Pat gives a nice overview of the Asian film culture, the stories of culture differences in film from american titles and sort of a here's where we are now kind of update. Pat also takes the time to explain how Asian films were bumped up into controversial content to help moves sales, which resulted in many cat 3 films being created. Just this fact alone is enough to entice thrill-seekers of new cinematic experiences. Some of these experience are shared in this book so that we may seek them for ourselves.
Facts are presented whenever relevant, so in combo with a pretty insightful overview on a film, Pat will throw in some facts of interest that might help the description at hand. Some films which deserved mention but not enough to get pages devoted to them were confined to inset boxes throughout.
I know I've had more than a few asian horror films that went way overhead in my viewing cycles that could of used some hand holding in its transition. The great thing is, is that Pat gets it and can lead you to resolution. Such films like "Tale of Two Sisters, "A snake of June" and even "Pulse" can be a vague watch to new comers. This book serves multi- purpose for me. On being a reference to films to look out for. Two, a reference bible of specific titles with insight overviews and 3 a more in depth factual guide on the productions themselves.
Pat's tone and style is not overly academic and considers the average viewers enough to speak to them as well. In other words he can speak as a fan as well as writer. If you are more of a browser reader then you will find comfort in easy to find title sections. this way you can access the film in question and get the author insight right away.
There are not a ton of pictures inside, but he has provided some shots that help to illustrate some key moments in films discussed. I would have preferred more myself, but some are better than none. He invites the reader to look into the recommendations, upon which he lays out the narratives well enought experience them on your own.
Upon finish, I came to bigger conclusion. I would love to see this book expanded in future with either a volume 2, a higher page count and/ or a updated version with recent asian releases. (published 2006 – but missing several new additions due to the increase of asian cinema interest). Pat has a great style and it would serve many to have him overview a larger collection of works not included.
A fine read for film lovers! A better read for Asian horror film fans!