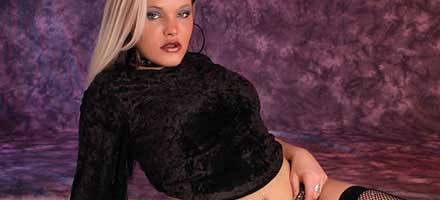 BIO:
I have been in the industry for 9 years now, not only modeling, but promoting and advertising as well. The name's Miss Helena Mayhem, and there's good reason behind that! I am training to be a professional wrestler, and am acting, as a personalty in an upcoming T.V. Show. Have played as an extra in a few movies, and am being cast for screenplays that are upcoming also.
Would love the opportunity to use my acting abilities more often! I have done work with the local film company, Deftone Pictures Studios, and Zombified Studios, to produce a movie called "Bitez"; Performed a lead role in the upcoming film festival movie, by Zombified Studios alone, called "In The Back", My character is Jenny; and also have a lead role in another movie, currently…It's called "Dusk", I am a vampire in this one.
I am planning to do more work with them in the future. I also had part in the film "The Wrestler", By Darren Arronofsky. (Just an extra, but it was silver screen, so it was real cool!) I was in my first musical at 6 years old, a Thespian in 9th grade, at only 14 years old. I took part in many Renissance Fairs, where I did a lot of stage fighting, That's where my love of wrestling, and horror, spawned from. I will take almost any chance I get to perform more.
http://www.helenamayhem.2itb.com
myspace.com/misshelenamayhem