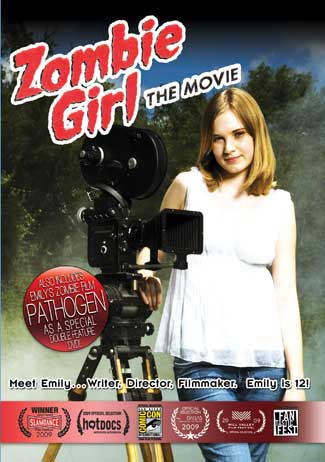 The award-winning documentary, ZOMBIE GIRL: THE MOVIE, gets its North American DVD release by R Squared Films on November 9th!
After winning the Spirit Award at the Slamdance Film Festival and playing before enthusiastic audiences at Comic-Con, Hot Docs, AFI Dallas, Fantastic Fest, and the Mill Valley Film Festival, ZOMBIE GIRL: THE MOVIE is now coming to a store near you.
A documentary LA Weekly says "has raw passion and real spirit," ZOMBIE GIRL: THE MOVIE tells the story of 12-year-old filmmaker Emily Hagins and the two years she spent directing her feature-length zombie movie, PATHOGEN. Bitten by the movie bug at a young age, Emily wrote to Peter Jackson — of LORD OF THE RINGS fame — letting him know about her aspirations. Jackson put her in touch with fellow Austin resident and legendary film guru, Harry Knowles, who introduced her to the zombie genre. With that, Emily had found her muse.
ZOMBIE GIRL: THE MOVIE is a coming-of-age story set against the backdrop of the explosive new world of youth filmmaking. Eric Kohn at IndieWire says it "proves that there is no age limit on cinematic expression." It's the quintessential film for any family with a child who says, "I want to make a movie!"
With the help of her mother as agent, crew, and biggest fan, Emily launches an epic adventure in filmmaking. She uses all the digital tools available to her tech-savvy generation, and along the way battles everything from budget shortfalls to self doubt — all while coming of age as a teenager. Rick Warner from the Bloomberg Press calls it a "funny, tender look at her journey as a first-time director."
The dvd release of ZOMBIE GIRL: THE MOVIE includes Emily's completed, feature-length zombie movie, PATHOGEN. A portion of each sale goes to support Emily's filmmaking efforts, which include her recently begun third feature film. She is shooting it this summer and plans to finish post-production throughout the year (as her school and homework schedules permit).
Included in the DVD are:
Pathogen (Emily's movie)
Q&A at Pathogen Premier
Interview on Emily's second feature "The Retelling"
Interview with Emily for her Third Film
Original movie Trailer