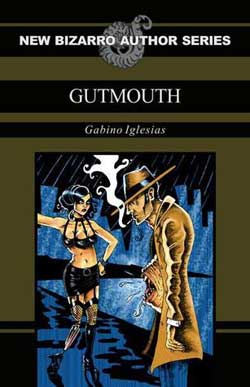 Gutmouth – by Gabino Iglesias
Eraserhead Press – 2012

Published in 2012 as part of the New Bizarro Author Series by Eraserhead Press, Gutmouth is author Gabino Iglesias' first book. The New Bizarro Author Series has become known for birthing a number of sick and twisted new voices into the world, including Steve Lowe (Muscle Memory), Kirsten Alene (Love in the Time of Dinosaurs), Kevin Shamel (Rotten Little Animals), and Patrick Wensink (Sex Dungeon For Sale, and more recently Broken Piano For President), just to name a few. Well, the same independent book press has birthed another monster, but this time it more resembles something out of a Frank Henenlotter film. To put it another way, this book is nothing short of amazing.
Gutmouth is at once a love story, a noir-ish crime story, and a dystopian sci-fi horror novella. David Dedmon is in a prison cell. While Ice-T once called prison the "bowels of the devil," the prison that Dedmon is in appears to actually be bowels, or possibly a stomach. And in place of cameras, there are giant eyes keeping watch. Squid-like, hissing, tentacled creatures guard the halls and cells. And to top it all off (and explain the nickname Gutmouth), just below his belly button Dedmon has a giant mouth named Philippe that speaks in a British accent and is constantly hungry. Dedmon is currently blood-boilingly angry with Philippe because David's one-legged, three-breasted, now ex-girlfriend Marie inadvertently cheated on him with the very same rude and obnoxious mouth.
As it turns out, Dedmon is in prison for the crime of murder. In this particular dystopia, MegaCorp is the ruler of the land, the judge, jury, and executioner (or, if one isn't so lucky, the mad scientist experimenter). MegaCorp makes the laws one must follow, names the products one must purchase, and causes the mutations that have scarred the population. And so, MegaCorp is also the group that is imprisoning our unfortunate anti-hero Dedmon.
The intro to Gutmouth feels a bit like if Oldboy had been written by Williams S Burroughs and featured Marty Malt from The Dark Backward. The first few chapters set the stage, showing us the world in which we will be living alongside Gutmouth. After we are given the guided tour of the hell that our characters call home, Iglesias takes us back, and Dedmon tells the story of how he got to his current position in prison. We get the story of how he first met Marie at a MegaCorp-owned cybersex club and it was love at first sight. We meet his friend Tony, a bodybuilder who now resembles a rat due to a black market internet DNA scam. And along the way, we get further detail of the Blade Runner/Bad Biology world around him.
This is a world where treatments have been conceived that turn pain into pleasure, where limbs can be regenerated immediately after they are cut off, where unchecked consumerism has brought about a fascist dictatorship. There are kleptomaniacal c**kroaches living in the walls, so everything of value must be locked up or else disappear. Below David Dedmon's apartment is a Genital Mutilation and Erotic Maiming Center, a place where people can go and have all kinds of things done to themselves in the name of pleasure. It's a world that takes an imagination that is part genius, part maniacal to create, something I believe Iglesias will take as a compliment. It's disgusting at the same time as it is amazing.
To call Gutmouth simply a gross-out bizarro story would be doing a great disservice to the author and to the story itself. The writing is fantastic, with great descriptions and word play throughout. As rapid fire fast as the story moves and as short (an easy 87 pages that I devoured in one sitting) and crazy as it is, the characters are not written one-dimensionally. The reader will find themselves feeling for Gutmouth, no matter what he may or may not have done. Iglesias also drops a couple nods to his works influences that made me smile as I read, at one point showing his protagonist relating to the lyrics of Cannibal Corpse's song "Meat Hook Sodomy," another time showing Dedmon "watching" a book by Carlton Mellick V.
Gabino Iglesias creates a horrifying world in which he throws his characters, then adds to it by throwing them into equally horrible circumstances. Gutmouth is one of those books that has been getting a lot of buzz lately (currently in contention for the Wonderland Book Award), and going into it I had heard a lot of good things, so I had high expectations. I'm happy to say it met and exceeded most all of those expectations. Any writer that can disgust and impress you within the course of a sentence is a writer to watch out for. I'm definitely marking down Gabino Iglesias as a writer whose next book I'll be impatiently waiting for.
Book Review: Gutmouth – Author Gabino Iglesias