HorrorNews.net has an Exclusive Giveaway for all of our UK friends and fans.  This is UK ONLY!  Please email me at joyhorror@horrornews.net and type KONGA in the subject line.  In the body of the email – type your full name and complete mailing address. We are giving away 2 copies of KONGA.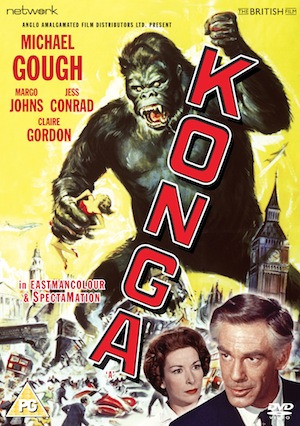 BRACE YOURSELVES FOR B-MOVIE MADNESS WITH SCI-FI HORROR
KONGA (PG)
Network Distributing is delighted to announce the home entertainment debut of one of the first monster movies to be made in colour! Cult classic KONGA (PG), an alternative interpretation of the King Kong Story is available to own on 13 May 2013, RRP £9.99.
Michael Gough is Dr Decker – a botanist and university professor – but also the sole survivor of a plane crash in Africa. When he returns from the jungle he brings with him a baby chimpanzee, 'Konga'. During the course of his experiments, Decker discovers a serum that causes Konga to grow to the size of a gorilla – and, eventually, to obey his will. Encountering both opposition to his experiments and following a love affair thwarted by a rival, he decides to put the supersized ape to terrifying use that terrorises London…
This entertaining film directed by Canadian John Lemont and shot at Merton Park Studios for Anglo-Amalgamated is finally available in a brand-new transfer from the original film elements in its as-exhibited cinema aspect ratio.
Special Features:
Original theatrical trailer
Image gallery
Press material PDFs.