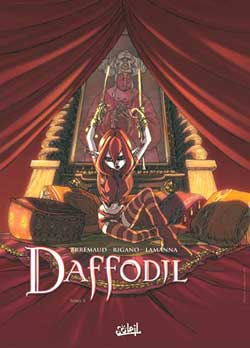 Issue: Daffodil #3
Writers: Frederic Brremaud
Artist: Giovanni Rigano
Colors: Paolo Lamanna
Adaptation: Marc Sumerak
Translation: Stephanie Logan
Letters: Joe Caramagna
Editors: Olivier Jalabert, Cory Levine, Joe Quesada, Jean Wacquet, Jeff Youngquist
Publisher: Soleil (Marvel)
Release Date: March 2010
Pages: 48
Price: $5.99
"Daffodil, Achilles and Globuline continue to hunt the mysterious and bloodthirsty Nosferatu who is running rampant, leaving a devastated countryside and a trail of bodies torn limb from limb behind him. If Nosferatu and his hordes cannot be stopped, his path of destruction will inevitably lead the greatest conflict between humans and vampires the world has ever seen. But Daffodil and her team are not the only ones looking for the great Count, and not everyone's motives are so pure. She'll have to make sure that Rotweiller, accompanied by his pack of canines, and Bones, a holy priest irresistibly attracted to the vampires' sensuality, don't find Nosferatu first!"
Artwork: 4.0 out of 5
If you read the first two issues of this series you might notice a little different look to this issue. Rigano told me that he did this to break up the two story lines that were covered in these 3 issues. This book is much darker, but still has that playful look to it. I would have to say that this is the more "adult" looking book out of the three and I love it.
Story: 4.0 out of 5
It always makes me a little sad when a series I like this much comes to an end. I want to start with the description above being off as the team is not after Nosferatu in this issue. Just pointing that out. This book jumps ship from the story that finished in the first two. It is a little confusing to only have three issues and a shift like this, but it is done well. It's kind of like a one shot, well maybe two if you look at the fact that it has 48 pages, and it is sad. I was honestly upset that this was it, because I want more. Great action and suspense that translates very well into English.
Dying Breath: 4.0 out of 5
I can honestly say that I am really happy to have this series in my horror collection. I wish we could start to see more imports of this quality head our way. This issue is a stand alone issue but also a good tease as to what Brremaud and Rigano are capable of giving us. I tell you this Marvel, get these two to start cranking out some more stories because I want them, and I want them now. Daffodil is a must own in my book for horror and vampire fans looking for something fun and different.
If you would like to buy Daffodil #3 you should be able to get it at your Local Comic Shop. You can find more info at marvel.com/comics/soleil
Comic Review: Daffodil – Issue 3