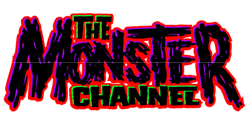 "THE MONSTER CHANNEL" TO AIR SELECTIONS FROM CAMP MOTION PICTURES LIBRARY IN 2012
Will air as "retro VHS" specials or nighttime programming on web channel.
Fourth Castle Micromedia's The Monster Channel, the only 24/7 interactive channel for horror fans, signed a deal to stream over a dozen feature titles in 2012 from the various video labels of Camp Motion Pictures.
The first seven titles will run as part of The Monster Channel's weekly spotlight show, "Lunchmeat VHS Rewind Theatre", a series created for the growing fanbase of retro VHS cult aficionados. They were selected from Camp Motion Pictures' collection of now-classic late-80s SOV ("shot on video") horror films, and include Video Violence (1987), Video Violence 2 (1987), Cannibal Campout (1988), Woodchipper Massacre (1988), Splatter Farm (1987), Beauty Queen Butcher (1990) and Ghoul School (1990).
Nine more horror titles will be featured as part of The Monster Channel's nighttime programming and include Brett Piper's monster films Shock-O-Rama (2005), Bite Me! (2004), Screaming Dead (2003) and Bacterium (2006), as well as Suburban Nightmare (2004), Red River (2011), Splatter Disco (2007), Splatter Beach (2007) and Skin Crawl (2007).
The films will be streamed as "scheduled programming", not on-demand. "Our channel has become a gathering destination for hardcore horror fans," said Joe Sena, President of Fourth Castle Micromedia. "Whenever we stream a film or broadcast a live event, the embedded chatroom is crowded with people all looking to share the experience with other fans around the world. In an era where 'appointment television' is considered dead, we seem to have brought it back from the grave."
Links to purchase or download these and other Camp Motion Pictures titles will run concurrently during the screenings. "Indie filmmakers ask us to show their films on The Monster Channel because they say that the sales of their product spike during screenings," said Sena. "The Channel serves as an infomercial for niche product that would otherwise find it difficult to reach an audience."
"The interactivity, accessibility and sheer fan-appeal of The Monster Channel offers a unique platform with which to deliver our vintage and contemporary programming to a niche genre audience," said Paige Davis, Director of Business Development for Camp Motion Pictures. "Utilizing new technologies to promote awareness and drive sales of independent genre films while preserving the enthusiasm and authenticity of the viewing experience is something we at Camp Motion Pictures can truly appreciate"
The weekly series Lunchmeat VHS Rewind Theatre featuring the first seven Pop Cinema titles premieres Friday, January 13 at 10PM EST. The nine contemporary Camp Motion Pictures titles will be shown throughout the year.
ABOUT THE MONSTER CHANNEL (www.monsterchannel.tv)
The Monster Channel, the first 24/7 interactive channel for fans of classic and independent horror films, broadcasts movies, television series and special events, both live and recorded. What makes the channel unique is its interactivity: a built-in chat screen allows thousands of fans from all over the world to communicate with each other during programming.
The Monster Channel is a brand of Fourth Castle Micromedia (www.fourthcastle.com), a boutique media company that also produces the EMCE Toys brand, the FearWerx ecommerce shop, Cinefantastique Magazine and others.
ABOUT CAMP MOTION PICTURES
Specializing in compelling independent genre films, Camp Motion Pictures is part of the Alternative Cinema network of independent film labels established in 1994 as ei Independent Cinema. Camp Motion Pictures, POPcinema and their various labels continue to distribute quality independent, cult and genre cinema to the DVD, digital and broadcast markets.