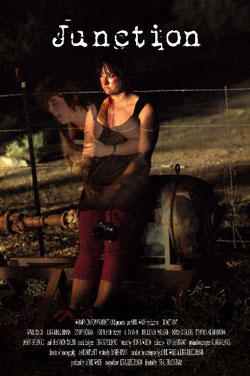 SYNOPSIS:
Michaela, a lost and lonely young woman, gets a mysterious message from the father she never knew, sending her on a journey to discover twisted family secrets. As she uncovers each piece of the puzzle, she descends even deeper into their warped world of pilgrims and pyromania. Dragged out to the desert, and pushed to the very edge, Michaela is forced to make a choice: preserve the delicate web that history has woven for her family, or strike out on her own and destroy the cycle of evil in her blood. That is, if she can survive the fire
REVIEW:
"Junction" in it's solemn somber toned score, opens with a bang and brutal fight in progress. As we are quickly removed from the bloody scene, we begin our introduction to Michaela McHenry (April Wade), a struggling student wanna-be photojournalist who has just been rejected applying for a local newspaper position.
At home she deals with the reality of her alcoholic mother Linda who suffers from addiction and depression creating a resulting strained relationship to cope with. Michaela who journeys to visit her ailing convict father in prison is given some startling news regarding family members. It appears that Michaela has 2 siblings fathered from a different mother. With a lead to follow up on and determination, she embarks on a trip to an old western town to seek out Chris ( Rollence Patugan), a local plant shop owner who has the details of the siblings whereabouts waiting for her. 2 envelopes are given though at different intervals in the movie.
The first sibling she locates is Victoria (Lira Kellerman ), a pregnant student like herself that also is dealing with mother issues. Though in this case the mother suffers from psychosis involving the notion of pilgrims and hallucinations. As the days move forward Michaela photographs and follows her sister without making contact first to get an idea of who she is. Out of that investigation she also photographs Shane, Victoria's boyfriend (Edward Gusts) and obvious future father to the child. From a distance, the strain Victoria suffers is also apparent and intriguing enough to continue investigating. Two lives running in parallel with troubled mothers and daughters trying to cope.
The clencher comes when Michaela finds out an earth shattering revelation on who her brother is and the role he plays in the scheme of things. As the plot unravels, Michaela indulges deeper into the involvement of there lives with a secret that she can't share but must. In the process, she also grows attached to Chris who shares a previous shady relationship with her father. The information he has been holding escalates the tension bringing an important decision to the forefront that Michaela must face with dire consequences.
Junction ranges the gamut from harsh and heartwarming to focused and memorable. Alot comes at you in a timed release that only reveals the facts you need to know when you need to know them. Though out it all Sonia Wisgo provides a great base of music that keeps it all together in its transitions and rhythmic pace.
Director Neal Fradsham has created a psychological compelling piece that visits taboos, strained relationships and cold realities.
April Wade who plays the lead of Michaela also shares credits as producer and co-writer on this production. Her performance is delivered with honestly and professionalism that provides a base fueling the film with a serious tone of compassion for her character. The film catches you off guard as a emotional thriller that comes full circle in its purpose.
Shot and edited with an eye of detail the film echo's hints of Oliver Stone in its visual storytelling and emotional drama. Junction is a quality piece that best of all has a story to tell by building compassion and suffering among its characters.