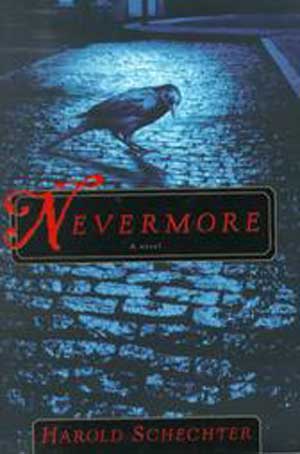 NEVERMORE
Written by Harold Schechter
Published by Atria
Publication Date: 2009
Format: B&W – 336 Pages
Price: $20.99
Few American writers are as famous (or infamous) as Edgar Allan Poe. Short story pioneer, literary critic and master of the macabre, Poe is often credited with the introduction of both horror and detective fiction to the American public at a time when literature was often imported from Britain. He is also well known for his personal shortcomings, most notably the tragic and all too early deaths of women close to him, his public feuds with other writers and his apparent inability to drink alcohol without going overboard. His private life, when held up to academic study, is almost as fantastical as the works he created.
Writers occasionally include historical elements within fictional works, blending truth and make-believe into a wholly new and inventive story. Kim Newman, with his Anno Dracula series, took Stoker's creation and tossed him into Victorian London, World War I era Germany and late 1950s Rome. Seeing famous fictional characters blending with historical icons can be incredibly entertaining and imaginative, but few novels, if any, achieve the literary heights of Harold Schecter's Edgar Allan Poe Mysteries series.
Schechter's novels are written in first-person narrative, the stories told by Poe himself to an unknown audience, possibly as an autobiography, in the morbid, morose  authors own ornate (and occasionally, at least for the casual reader, overbearing) style. Poe often mentions his home life, his aunt Maria and darling cousin Virginia (whom he affectionately calls Muddy and Sissy, respectively) and his correspondences with various literary magazines of the day, all real occurrences based entirely on historical fact and research. The novels, though describing fictionalized accounts of murders needing solved, deal almost entirely with actual persons of the day, resulting in a narrative that reads more like pure nonfiction than the imaginative writings of a modern day – Author channeling the dead.
In Nevermore, the first book of the series (originally published in 1999 to coincide with the 150th anniversary of Poe's mystery-shrouded disappearance and death), a young Poe finds himself facing an angry Colonel David "Davy" Crockett, whose fantastical, outlandish autobiography Poe has recently slammed in the Southern Literary Messenger, a literary magazine where Poe is the assistant editor and book reviewer. In real life, Poe indeed slammed Crockett's autobiography, but there is no historical record of the two having ever met. In the novel, however, the feud is about to spill over into fisticuffs when a horrid murder takes place, forcing the morbid aspiring writer and celebrated frontiersman into a tentative truce, throwing them together for the long haul as one after another of Baltimore's theatre patrons are brutally slaughtered. They are forced to put their differences aside and tolerate each others' vastly different personalities so that they can discover the culprit of the increasingly vicious attacks and figure out the significance of the one word that is scrawled in blood at the scene of each crime.
It is obvious after only a few short pages that Schechter took great pains researching Poe's history, body of work and writing style. Fact and fiction are blended so seamlessly that it is as if Schechter has unearthed Poe's own journals and published them as fiction. Poe laments the death of his mother, rails against his biological and foster fathers and lavishes his aunt and cousin with the adoration in a way most only ever see in scholarly biographies. His sense of humor is intact as well, making casual asides about the worthlessness of mass publication in the 1840s, a stance the author was known to have actually taken for most of his writing life. He speaks of his time in the Army and at West Point, his dry, often overlooked wit standing out again and again.
Schechter's portrayal of Crockett through the eyes of Poe is a thing to behold as well. Every nuance of the famous folk hero's speech and body language is rendered beautifully through Poe's eyes. From his use of slang to his well-documented bragging, Crockett truly is the larger than life legend every moment he graces the pages of Nevermore.
One may easily assume that a novel featuring historically accurate characters, whose dates of birth and death are all a matter of public record, would greatly diminish its tension. Where is the emotional investment if these people's lives are never really in danger? The author certainly can't kill them off earlier than they factually died. While this may be true, Schechter's spot-on portrayal of Poe and Crockett will leave audiences turning pages well into the night, if not to find out who dies but to find out who's behind it all. Knowing that Crockett, who died at the Battle of the Alamo in 1836, has a but a few months to live after the epilogue concludes adds an incredibly effective layer of bittersweet poignancy to the narrative, creating even further the illusion that Schechter is penning something beyond mere speculative fiction.
Nevermore takes place in late 1834, when Poe was transitioning from mostly poetry to literary reviews and prose fiction. None of his famous short stories have yet been written, and during the novel tiny details add up that will make those already familiar with him chuckle. References are made to "The Fall of the House of Usher," "The Cask of Amontillado," "The Tell-Tale Heart," "Lenore," "The Masque of the Red Death" and others. The title of the novel, of course, refers to his most famous work, the narrative poem "The Raven," published in 1835, just a few months after the conclusion of the Nevermore's plot, tying Poe in fiction to Poe in fact in a way that can only be described as brilliant.
Part horror novel, part biography and part an exercise in "what if," Poe fans and mystery lovers can't go wrong picking up a copy of Nevermore. Schechter, once known primarily for his true crime books on famous serial killers, is an amazing novelist who goes to extreme lengths to give his fiction the ring of authenticity.
Available at AMAZON